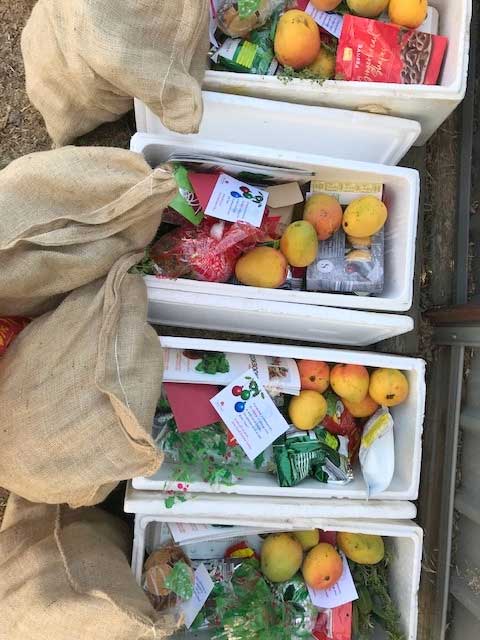 Our final drought boxes were packed and sent to the Upper Hunter on December 6. The donations for these boxes (and the help from the volunteers who packed them) is nothing short of inspiring. We are heartened to see that our community clearly understands where their food comes from and where the future of their food lies (in the hands of our farmers).
If you can feel our farmers' pain, if you value the future of farming in Australia, if you want to eat Australian produce well into the future, if you want to help, you can. You can be part of our initiative. Our volunteers, our Slow Food Hunter Valley members, and local farmers from our Earth Markets are working together to deliver fresh food to families in the Upper Hunter.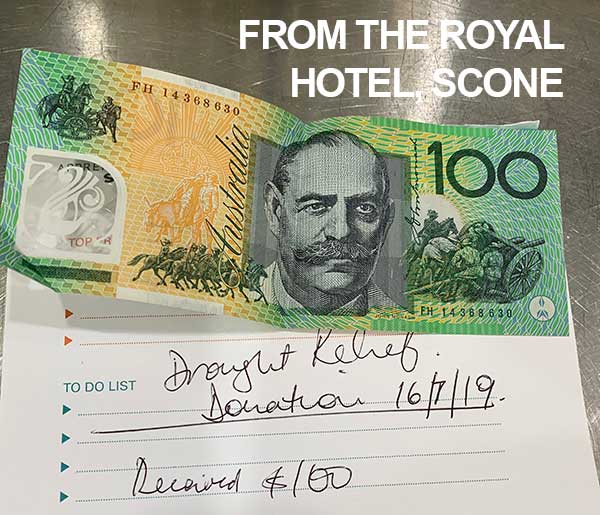 So don't take your foot off the accelerator just yet. Your efforts with the drought relief will help to "feed the future" of Australian farming. Forty dollars ($40) will buy a farming family a box of mixed vegetables while $100 will buy a box of mixed vegetables with meat.
Remember, we need a farmer three times a day! Without them we are in SERIOUS trouble. We need to keep our farmers on the land at a time when the land is one of the most difficult places to be.
In 2018 – 255 Boxes and 3 Ton of Produce
Valued at just over $9,000, Slow Food Hunter Valley has delivered 255 boxes of fresh produce to drought-affected farmers in the Upper Hunter. This has been made possible by the generosity of the community including: substantial donations of fresh food from local farmers who are stallholders at the Maitland Earth Markets donations from The Little Tin Shed in Medowie donations totalling more than $6,000 from Maitland City Council, members of the community and a number of anonymous donors Slow Food Hunter Valley fund-raising ($2,500) some 200 volunteer-hours (packing and delivering boxes – not to mention collecting empty boxes from a range of shops).
What Have we Been Doing?
Slow Food Hunter Valley has been providing boxes of mixed vegetables to farmers as a way of assisting with drought relief. Through our fund raising efforts we have been able to purchase vegetables from local farmers. Volunteers have packed the boxes and delivered them to areas in the Upper Hunter. Our next box drop will be on Friday, August 3 and it will be our third delivery to farmers in the Gundy area. The 40 boxes will packed at the Earth Market on Thursday afternoon. We will continue to roll out this support for as long as we are able.
We Could not do This Alone
The produce boxes are taken to the Upper Hunter and distributed through our Country Women's Association (CWA) connections. The CWA – who are at the coal face of this drought – have provided the link between us and the farming community in the Upper Hunter. Without their assistance this could not have been possible.
We are also grateful to the following for keeping boxes for us to use when packing the drought relief produce (it is surprising how hard it is to find 40 boxes of the same – or similar – size):

Sam and the staff at Merewether IGA (Llewellyn Street, Merewether)
Clint from Lambton Fruit Market & Juice Bar (Elder Street, Lambton) (fun fact … this shop was established in 1922 and remains one of a very small number of independent fruit and veg shops in Newey)
Organic Feast (William Street, East Maitland).
How Can you help?
You can donate to the drought-relief boxes by direct credit to our account. Slow Food Hunter Valley BSB: 062827 Account Number: 10250766 Reference: Please use "FOF" followed by your surname (example FOFBloggs).
It doesn't matter how small or large your donation is … IT ALL ADDS UP and IT ALL GOES TO THE FARMER! Donations reaching $40 donation will provide a mixed box of vegetables. Donation reaching $100 will provide a mixed box of vegetables WITH a meat pack. All fresh produce is sourced locally.
Why Donate?
As a volunteer, not-for-profit organisation, 100% of your donations go to the farmers. If you donate any money, would you please send an email (with your name) to slowfoodhuntervalley@gmail.com. This will allow us to acknowledge you (by publishing your name on our website). If you would like to remain anonymous, that's OK too.
What our Farmers are Saying
Drought means farmers cannot feed their stock, themselves, their families or US! It's hard to believe that fresh food becomes a luxury on a farm!! This seems like a contradiction but it is the reality of life on the land in a "sunburnt country".
Thank you for your initiative and for providing a donation site that provides confidence in the donator that the money received will provide direct and positive benefit. Keep up the amazing and supportive work. With Gratitude, Jenny Klok.
You are wonderful for organising this. Hoping to give more next week. Jodie and her kiddos xxxxxx
Thank you [to] all the passionate workers [at] the "Slow Food Hunter Valley Movement" that put these wonderful boxes together and deliver the same. Please pass our heartfelt thanks onto them. We do greatly appreciate your effort & goodwill. I made a big pot of vegetable soup from some of the vege's on Sunday and we are still enjoying it for our lunches. Thank you." [Name withheld for reasons of privacy.]
We just wanted to thank you so much for our delicious fruit and veggies! We are so lucky that there is such generosity about. It's very much appreciated. The kids particularly love the home made lemon cordial!
Many, many thanks from … [name withheld for reasons of privacy]. x
Note: that lovely lemon cordial is made by our farmers Tom and Dom from Four Acre Farm.
Good Morning to all at Slow Food Hunter Valley. Thank you so much for your hamper that we received yesterday afternoon. It was a wonderful surprise to receive such a generous gift. What thoughtful and caring people you are to put your time into organizing this for the farmers. There are a lot of people doing it tough and to receive this gift was as if it had just rained. We appreciate your generosity and kindness.
Thank you. [Name withheld for reasons of privacy.]
Good Morning [Slow Food Hunter Valley],
Firstly I would like to apologise for the delay in thanking you and your group for the beautiful vege boxes & care packages that the people in the Moonan / Ellerston / Tomalla areas received. They were very much appreciated.
Anne from Gundy suggested to us that as the Gundy area received the first shipment that perhaps the Moonan area would welcome the next ones.
My husband [and I] delivered them the next day with the help of Ken (who delivered the Moonan Brook boxes & care packages) and Patricia (who kindly delivered the Ellerston area).
Everyone was so grateful & for this we thank you. We can't even buy such fresh produce in the local shops and the honey was to die for.
Once again on behalf of all the people in our area I would like to thank you & the Slow Food Hunter Valley group from the bottom of our hearts.
As are the majority of farmers wide & far we are all doing it tough and we have to look after each other.
Kind regards. [Name withheld for reasons of privacy.]
Good evening. We wanted to pass on our heartfelt thanks to all the farmers who provided the vegetables in a care package that was delivered recently to our family in Scone. We are a farming family from [the Upper Hunter]. We were able to share the produce with 3 other families. The honey and lemon cordial are delightful. When is your next market held and what is the location as we would like to come and support the farmers. Thank you once again for the very generous gift of produce. (Name and property details withheld for reasons of privacy.)
For more quotes, see the right hand column "More from our Hunter Valley farmers".