Our winners
In November we ran our Food for Change Challenge, encouraging everyone to eat less meat. And the winners are:
Cecily Lenton
Cecily is our grand prize winner and received a $100 voucher for Estabar and the beautiful Power Pulses cookbook.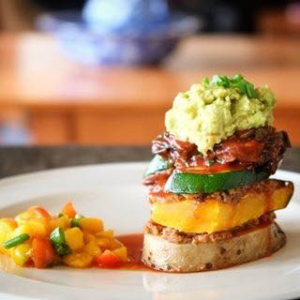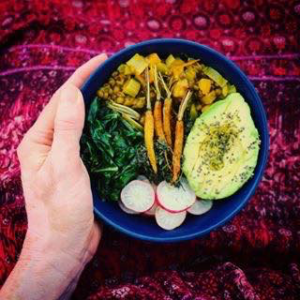 Keshia Cohen
Keisha sourced all vegetables for her recipe Maitland's Earth Markets on Thursday 15th November. Cecily also won a copy of the Power Pulses cookbook.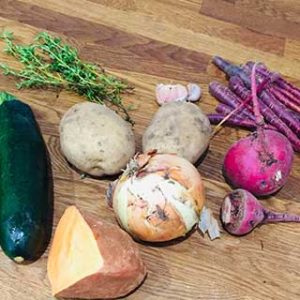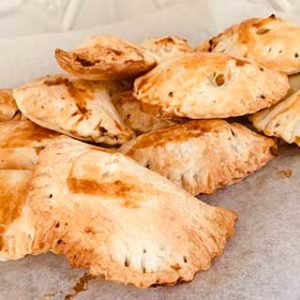 Zoe Lewis
Zoe gave us a Guardian's Pie. This is an earth-friendly alternative to the classic Shephard's Pie.
The Guardian's Pie consists almost exclusively of produce sourced from Maitland's Earth Markets, including:
spinach
zucchini
onions
potatoes
purple carrots
rosemary and coriander
as well as mushrooms from Medowie and sweet potato from the Newcastle Farmers Market.
The pie contains a can of chickpeas and a can of lentils, as well as vegetable stock, balsamic vinegar and red wine for the filling. The mash potato is made with dairy-free butter, and is sprinkled with bread crumbs mixed with olive oil and lemon juice.
Zoe tells us this "is a cheap meal to make and creates between 6-8 serves. It is an adaptable meal that can be changed depending on the seasonal vegetable available, and can also be useful for using up old veggies in your fridge!"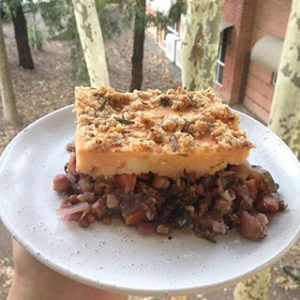 Evelyn Threlfo and Bryce Reynolds
Evelyn and Bryce may be chefs at Coquun but when they approached the task of our Food for Change Challenge they asked themselves, "what would I cook at home with these ingredients?". The end result was a dish of corned beets with chickpeas in a spiced broth.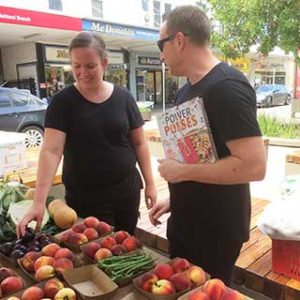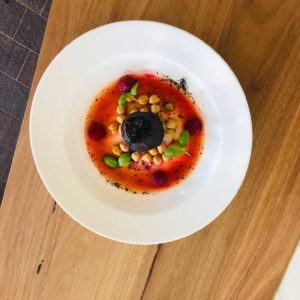 Power Pulses cookbook
The Power Pulses cookbook will revolutionise your diet through lentils, dry peas, beans, and chickpeas. Together these power-packed foods can deliver powerful protein- and heart-healthy benefits. Pulses are delicious legume crops full of goodness, and perfect for any time of the day.
Our November 2018 Challenge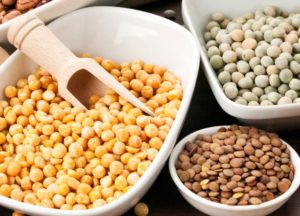 It's on again! Our November Food for Change Challenge! Join a global effort to reduce climate change by eating less meat and more legumes, nuts and seeds.
You are invited to take up the Slow Food Food for Change challenge this November and join Slow Food Hunter Valley in a global effort to reduce climate change.  New research published in the science journal Naturereports that Western nations need to eat much less meat and more legumes, nuts and seeds to slow global temperature increases.
To entice you to take up the challenge we are looking for three winners who will receive a copy of the new DK cookbook Power Pulses by Tami Hardeman.  Winning entries will be chosen for taste, creativity and maximum use of the ingredients. Our grand prize winner will also receive a meal for up to 4 people at Estabar Café in Newcastle, NSW.
Winners will be announced at Slow Food's Terra Madre Day celebration on Thursday, December 6th at 6.30pm at The Levee, Central Maitland.
This initiative is part of the international Slow Food Food for Change campaign. A study published in the science journal Nature last month, reported that efforts to reduce global warming must include adopting a more vegetarian diet (see citation in this article https://www.theguardian.com/environment/2018/oct/10/huge-reduction-in-meat-eating-essential-to-avoid-climate-breakdown).
THANK YOU TO OUR PARTNERS: ORGANIC FEAST, EAST MAITLAND, and ESTABAR CAFÉ in NEWCASTLE!