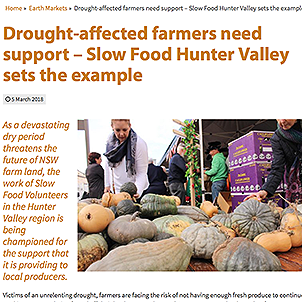 As a devastating drought continues to impact Hunter Valley – and other NSW – farmers, Slow Food volunteers in the Hunter region have rallied to support their local producers. The work has not gone unnoticed and was mentioned last week in Federal Parliament by Meryl Swanson MP, Federal Member for Paterson. In her speech to parliament Ms Swanson acknowledged the work of Slow Food Hunter Valley and the measures taken to help local drought-affected farmers.
Slow Food International has published the story on the Slow Food Foundation for Biodiversity website, giving Slow Food Hunter Valley international exposure and recognition.
As some autumn rain eases the situation and provides some relief, farmers suffering under the unrelenting dry period will continue to face years of recovery. Local produce has dwindled, farmers have de-stocked cattle and in some cases farmers have felt compelled to leave the land.
Slow Food Hunter Valley will continue to work with farmers to provide support where possible.