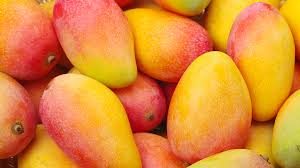 Mangos Mangos Mangos! This Thursday at the Earth Market you can get pesticide free, biodynamically grown Kensington Pride mangos right here in Maitland.
Spring brings abundance and right now it's mangos – which are the focus of this season's food rescue. The mangos are are on their way from Townsville and will be sold at the Earth market this Thursday 15th November (remember the earlier start time of 12.30pm).
Seven pickers picked all day to rescue a ton of mangos! They couldn't rescue them all but they have done their best and the result is a ton of mangos bound for Maitland.
This food rescue has come about because when the mangos are ready in the Townsville region, they are picked in a three week period, creating a glut. Small-scale farmers like Helen and Bruce Hill cannot compete on price and volume so their prod, so this ton of mangos would be wasted and another farmer left without an income. So in keeping with Slow Food's "no waste" philosophy and in support of our current November Food for Change campaign, shoppers can stock up and know that an Australian farmer is selling their crop right here in Australia and Maitland is doing its bit.
So come down to the markets this Thursday. Make a dish with mangos, add pulses, seeds and nuts and enter our Food for Change competition. Or post your creation on the Maitland Mercury Facebook pages.  There are prizes to be won but, more importantly, Maitland will have another way for consumers to support Australia's small-scale farmers, reduce food waste and feel like we are making a small contribution against global warming, climate change and the inequitable nature of our mainstream food system.
Slow food Hunter Valley would like to thank Townsville farmers Bruce and Helen Hill. We are also pleased and proud to partner with the Maitland Mercury and the Maitland City council to bring this delicious food rescue to our city.