Rescue for Nourishment
Throughout the year Slow Food Hunter Valley provides nourishment for those in our community who are struggling to make ends meet. We provide thousands of meals each year to the Maitland Community Centre.
Providing these meals involves working with:

local farmers who donate food
Oz Harvest who delivers our food to the Community Centre
local philanthropic organisations or individuals who provide grants so we can purchase additional food to top up what our farmers donate.
Latest updates
Report 1 May 2018
The community cooking program – one under the banner of "Rescue and Nourish" – resumed early in February this year. So far this year we have produced approximately 232 kg of food, which, using the OzHarvest formula, translates to 696 meals (three meals for every kilogram of food).
The bulk of our raw ingredients are still donated by our wonderful farmers: Nebo Farm, Austin Breiner, Tony Milburn, Just Been Laid and Little Hill Farm. We are buying some foodstuffs such as pulses, olive oil and meat using our own funds. OzHarvest has recently agreed to donate some of their rescued food (including some eggs – as supplies are low from our farmers) which goes into our meals. OzHarvest then collects the meals each Monday and transports them in a refrigerated van.
There are currently 15 regular volunteers, some of them fortnightly, and four who are "on call". We have welcomed several new faces this year and people seem to enjoy the buzz of Amorelle's kitchen. We were sorry to farewell Roy Gilbourne some weeks ago (he is sorely missed). Roy had been one of our staunchest and longest-serving volunteers who would spend hours on Saturday mornings finalising the cooking and boxing the meals completely unsupervised (he was the backbone of our community food on Saturday mornings). He is proving difficult to replace.
We would like to thank Kay Teterin for taking on some of that workload as well as Amorelle and Liz. We were also sorry to lose Andrew Hutchison who had only been with us one year but had been a very focused and committed volunteer. And since Andrew Dempster is now recovering from shoulder surgery we thank him for all the hours he has spent doing 'volunteer' washing up. And of course, as always, we would like to send a formal 'thank you' to all our volunteers who make such a valued contribution to the community food Rescue and Nourish program.
Although the work is progressing well, the need in the community continues to grow as many people fall on hard times. Therefore we are working towards increasing our output this year, mainly through the way we organise the food preparation. We will need to look at applying for another grant soon, and of course we always welcome more volunteers.
Report prepared by Margaret Kavanagh
We won an awesome award!!!!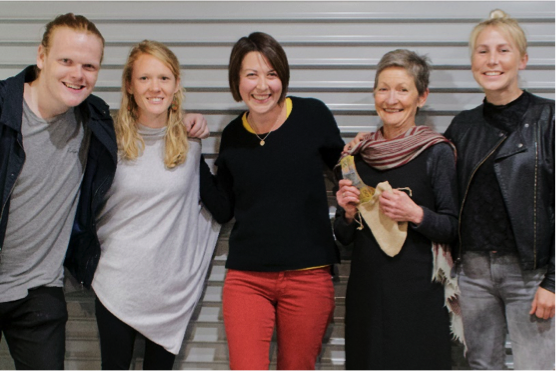 The SlowFood community kitchen has received a grant of $1000 from the Awesome Newcastle foundation. After applying for the grant, volunteer coordinator Margaret Kavanagh was informed that the project was one of three finalists and she was invited to address the board on the evening of Thursday, 24th August. Finalists gave a 3 minute speech and then answered questions from members of the board.
In her presentation and during question time Margaret, who is a volunteer with Slow Food Hunter Valley and the community food program coordinator, explained that nearby farms, gardens and businesses donate food to volunteers who turn it into nutritious and tasty meals. The food is made under the guidance of local chef and Slow Food leader Amorelle Dempster. OzHarvest then distributes the delicious meals to disadvantaged people within the community.  Margaret said she would use the grant to include meat, pulses and local eggs in the meals on a regular basis.
As the board of Awesome Newcastle deliberated on the finalists, one of the guest board members, Alan, shared a personal story about how initiatives – like the one Margaret coordinated – had made a huge difference for him and his family. "It does not take too big an act of kindness to help motivate someone to persevere through some solid hardships," Alan said.
After the votes were tallied, Margaret was the clear winner. Alan presented Margaret with $1,000 cold hard cash. Awesome Newcastle can't wait to hear how the money helps people in need!
July 2017 – seeking a grant
Every time one of our local farmers or a home-grower donates their surplus food to our Community Food program, we are overwhelmed by their generosity. These donations, coupled with the volunteers who help create hundreds of community meals go a long way to help us provide good nutrition to those who may otherwise not be able to provide for themselves or their children.
Despite the donations and volunteer labour, feeding the community still requires some funds for items that we need to purchase. To help with this we recently applied for the Stockland McKeachies Run Grant. Unfortunately we were unsuccessful with our application but we are currently investigating our eligibility to apply for a grant from the Newcastle Permanent Building Society.
There are still several of our regular volunteer workers who are away and we have been just managing to keep the preparation going from week to week. last week we produced 175 meals.
We are also looking to change the name of the program and would appreciate input from anyone else who would like to suggest a name.
Report prepared by Margaret Kavanagh
June 2016 – welcome to new volunteers
The community kitchen is continuing to increase the average number of meals it produces. Amorelle Dempster, Leader Slow Food Hunter Valley, reports that in the last week of May 2017 enough food was produced to serve some 300 meals.
A number of significant absences this year among our regular volunteers has meant that it is always a challenge finding enough workers each week. We do have a wonderful group and are very grateful to them for their time. Some of our volunteers have also become regular helpers at the produce markets.
Three new people have started in the kitchen over the past weeks. We welcome Hayley Maher, Joan Anderson and Renah Nelson, two of whom responded to our facebook page.
Amorelle has set up an arrangement with Kelly Eaton of Little Hill Farm whereby we purchase her broken eggs for $2 per dozen. This solves the problem of continually buying eggs at a much higher price for our frittatas that have become a staple of the meals we produce.
We are still awaiting the results of the Stockland grant application to assist with purchasing produce for the community food. We should know if we have been successful mid-June.
Report prepared by Margaret Kavanagh
Some history
Slow Food Hunter Valley commenced a community food program in 2014 in response to local needs. The program involves taking dontated surplus food from nearby farms, local gardens, and businesses and turning it into nutritious and tasty meals.
In a single year (in the early days of the project) we saw:

704 kg of raw and fresh food donated and redistributed
local farmers, home-growers and the Greenhills Fresh Grocer donate an extraordinary amount of fresh produce
2,112 meals produced for our community
17 wonderful volunteers helping to make this possible.
In 2017, some three years after we started, we continue to produce around 200 meals most weeks. The farmers have been very generous with food donations.This project is made possible with the help of the Maitland Mercury Newspaper (who provided the profile this project needed to get off the ground) and Oz Harvest (who has distributed the food to local charities).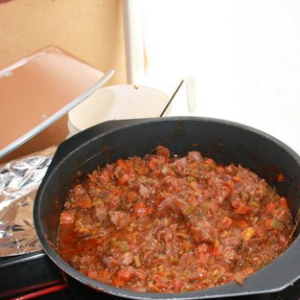 We are also grateful to the volunteers (both members and non-members) from the community who donate their time to prepare, cook and pack the food.