Within Radius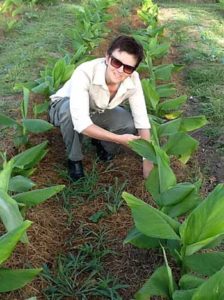 In 2011 Liz Griffiths registered a small business called Within Radius. Her goal was to be part of a community where we continually strive to reduce our carbon footprint by sourcing food from within a small radius. The Earth Markets in Maitland have helped Liz make her dream come true. Liz sees the Earth Market and her business, Within Radius, is a perfect fit. As a grower Liz focuses on two main areas – herbs and turmeric. Liz sells fresh herbs at the markets as well as dried herbs (she dries her herbs when they are in abundance). Her turmeric ls sold fresh after harvest (from August to October) but is available all year round as a dried spice. Liz dries and grinds her own turmeric, using the Indian government standards as a her guidelines to ensure a quality product.
To complement her range of herbs, Liz also grows peppermint and dries it into peppermint tea. Liz grows all her produce organically – although she points out that she is not a certified organic grower.
Liz not only sells at the markets but shops there every fortnight – helping to support local growers and achieving her goal of eliminating food miles (the distance our food travels before it gets to us) wherever possible. Liz is a third generation farmer who, after a long corporate career, is now rediscovering the land.