Our next Talking Dinner
Due to Slow Food Australia's National Conference in August and so many other events during May and June, our next Talking Dinner will not be held until September.
The next Talking Dinner will actually be a luncheon (just to mix things up a little).
Date: Sunday, 24 September
Venue: Galloway Beef's farm
About the event: This will be a paddock to plate event.
Join us for lunch and a farm tour. More details will be posted closer to the event.
Talking dinners 2017 (what you missed)
Garlic Garlic Garlic (11 April 2017)
Slow Food Hunter Valley's first Talking Dinner of 2017 was held at Nanna Kerr's Kitchen, Pokolbin with a theme of 'garlic'. This dinner was run in conjunction with Jocelyn Colleran, a passionate expert on garlic and the 50 attendees were more than a little surprised when garlic turned up in every course.
Nanna Kerr's Kitchen embraced the opportunity to experiment with an interesting range of dishes to stimulate, educate and excite the attendees' palates and they certainly did not disappoint. Under Jocelyn's guidance the menu was beautifully served with Thomb Three Ways, Garlic and Parmesan Arancini, Beetroot Chips, Squid Ink Risotto, Garlic / Thyme / Chilli Confit Duck, and Hay Smoked Handmade Vanilla Ice-Cream.
Before and during the courses, Jocelyn shared her extensive knowledge on garlic, the varieties, how to get the most out of using garlic in cooking, growing garlic, and much more. The guests were captivated with Jocelyn's presentation.
Carol Horton did another fantastic job of sourcing and presenting the raffle to add to the fund raising for the evening. This not only adds very much appreciated funds for Slow Food Hunter Valley but also provides an awareness of other businesses and their products and services and also brings a fun aspect to the evening.
Our thanks to Nanna Kerr's Kitchen for the venue and co-hosting the event.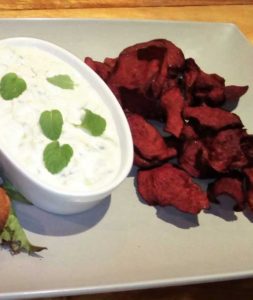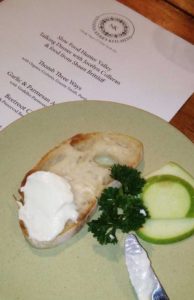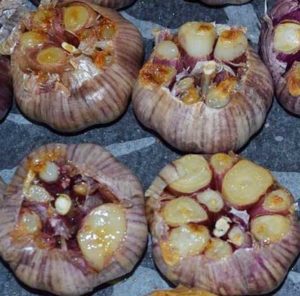 Report by Derice McDonald and Photos by Jocelyn Colleran
Talking dinners 2016 (Dinners 12 to 13)
Our dinners in 2016 are currently being archived. Call back soon for a summary.
Talking dinners 2015 (Dinners 7 to 11)
Our dinners in 2015 have been archived. A summary of these dinners can be found in the Talking Dinners 2015 summary.
Talking dinners 2014 (Dinners 1 to 6)
Our dinners in 2014 have been archived. A summary of these dinners can be found in the Talking Dinners 2014 summary.