Don't miss this opportunity to see local, small-scale farming up close and personal. Join us for a rambling tour of three local farms in the Upper Allyn/Dungog areas. You will visit the last independent small-scale dairy farm on the Upper Allyn (this farm is not open to the public and is a rare opportunity). You will see pasture-raised egg production (which is very different to free range). You will be introduced to beef cattle production and visit a bakery where the flour is milled on site. These are all part of our September 7 Talking Farms tour.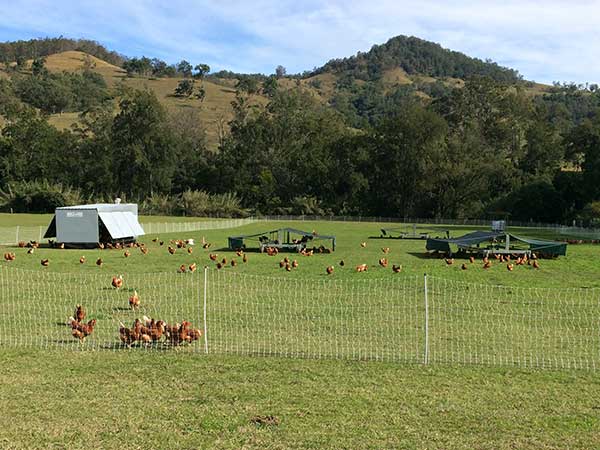 Our day will start at East Maitland where you will be ushered onto our mini bus (coffee will be available from Bread and Water cafe if you come a little earlier – see our map below).
We'll pass through East Gresford and head out to the Upper Allyn. We'll spend the morning at two farms (which will include morning tea). We will have a lazy lunch by a babbling brook on one of the farms – near Grizzly Adams' cabin (or at least that's what it looks like).
After lunch we'll head to a farm outside Dungog where we will have the afternoon to soak up some knowledge about beef cattle farming and also see a custom-built bakery in action (where responsible and ethical business practices are at the forefront of farming practices). Afternoon tea will served at our beef cattle and bakery farm (yes it is quite a combination).
Event Details
Date/Time: Saturday, 7 September (8.45am – 5.30pm-ish)
Venue: Three farms (via a mini bus tour)
Departing: 8.45am – please catch the bus from the car park at 1 John St East Maitland (see address and map below)
Cost: $$80.00 ($70 for Slow Food Hunter Valley paid members)
Meals: All meals provided.
Bookings: Book via Try Bookings.

Note: Bread and Water Cafe will be open for coffee from 8.00am.
Where to Meet (Address)
Address: 1 John St, East Maitland, 2323
This is the car park of the East Maitland Court House.
The carpark entrance is opposite the old Maitland Gaol off John St.
See the map below (the area marked in yellow).
Where to Meet (Map)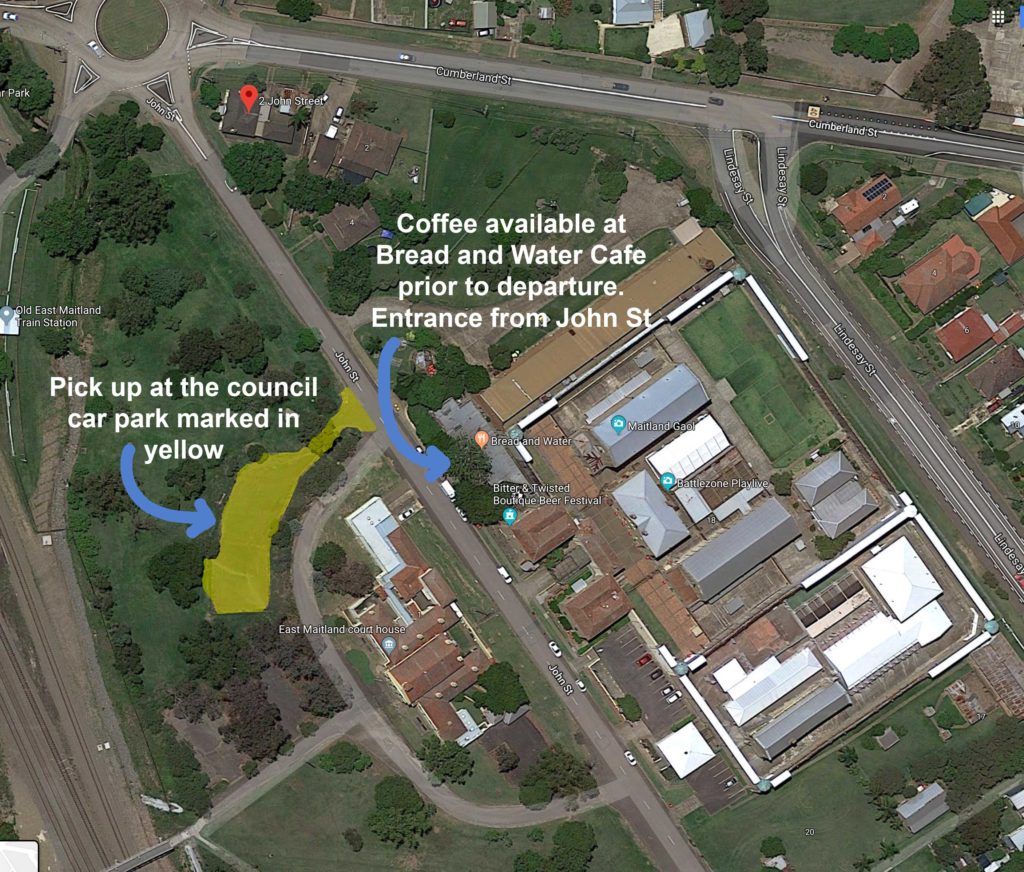 What to Expect
This is an important part of Slow Food's work to connect us back to our food sources. Much of the produce you see is available locally. The eggs are sold locally direct to the public and to local cafes. The dairy farm we visit is milk you may well have purchased in the supermarket and the bakery sells (among other places) as Maitland's Slow Food Earth Market. This is a long day but well-paced. Lunch and morning and afternoon tea will be provided.
Morning tea, lunch and afternoon tea
Morning tea will be a quick cuppa and a sweet or savoury treat at our first farm.
Lunch will be a gourmet sausage sizzle with sausages supplied by the Morpeth Butchery, sourdough from Fosterton Farm and condiments from Bella-Rose.
A light salad will be served to freshen up the palate. Afternoon tea will be a tasting of treats from the bakery.
Please note, coeliacs will be catered for. Please let us know if you are a coeliac or gluten intolerant so we can be sure we have enough gluten free options for everyone.
What to Bring/Wear
Wear trousers/jeans if possible. Bring a hat. Wear sunscreen. Wear good walking boots – preferably ones that HAVE NOT been around chickens in the last two weeks (including chickens that are either domestically or commercially raised). Bring your own water (a small water bottle). If it looks like rain, please bring a poncho or umbrella.
You will be asked to put your shoes into a liquid for bio-control. You may also be asked to wear a bio-control suit (which, for the ladies, will slip over jeans or trousers more readily than a dress or skirt).
Dietary Requirements
If you have any dietary requirements please call Liz Griffiths on 0401 425 903 to discuss your needs. We will do all we can to accommodate them.
Children Welcome
Children are welcome but each child must be accompanied by one adult at all times (one child to one adult please). Please be aware that tickets will be the same price for children and adults (this is because children will be issued their own seat).
Children over five are able to use the seat belts in the bus. For children under 5 years you must have a booster seat or capsule for the child. Children cannot sit on an adult's lap (our driver is a volunteer and we cannot ask our driver to accept the responsibility of a child that is not anchored in the bus).
If you have a booster seat or capsule, please call Liz on 0401 425 903 to discuss your booster seat or capsule. We need to be sure your seat or capsule can be anchored in the bus using the existing seat belt arrangement in the bus we are hiring.
Just to reiterate, for safety reasons we need to know that all children are secure during the tour and therefore ask that you do not have children seated on your lap during travel.