Spring 2017 Talking Garden (Oct 22)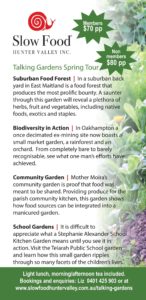 Book now for our Spring 2017 Talking Garden. We will visit a suburban food forest, a community garden that helps feed those in need, a Stephanie Alexander Kitchen school garden and a local grower who has worked to regenerate a small-scale farm on the outskirts of Maitland. Be inspired. Enjoy high tea in the middle of an orchard, have a day out, meet people.
Details:

Where:  Mini bus departs John St, East Maitland (opposite Blackbird Artisan Bakery – located at the Maitland Gaol)
When: October 22nd at 8.45am.
Visits to: Four sites (an urban food forest in East Maitland, a small-scale farm in Oakhampton, a community garden in Telarah, and Stephanie Alexander Kitchen Garden in Telarah).
Cost: $80pp.
What to bring: hat, drinking water, good walking shoes and a sense of fun.
This tour is limited to twenty people. Bookings are open NOW!
About Talking Gardens
Be inspired as we visit sites from small-scale organic farms through to backyard food gardens that are abundant in produce and biodiversity. Enjoy the company of fellow gardeners (or want-to-be gardeners).
Whether you want to be inspired, are curious about what others are doing, or are wondering whether you can achieve a sustainable food source in your own yard, we are sure you will find something to enjoy at one of our Talking Gardens events.
This year we will have four Talking Garden tours – summer, autumn, winter and spring.
Summer's 2016 Talking Garden (Planting)
Our inaugural Talking Gardens was held in the tranquil setting of Purple Pear Farm on Sunday 31 January. Owners Mark and Kate were wonderful hosts and, together with the work of our guests, helped to make the day a great success.
Kate took us through techniques, tips and tricks for sowing and transplanting and shared her knowledge of soils, plants, and insects – both beneficial and non-beneficial – as we potted-up a range of plants. Guests meandered through the mandala garden, harvested plants, and made potting mix from soils and composted materials sourced from the farm.
Of course, no trip to Purple Pear Farm would be complete without some wonderful home-grown or home-made produce. To this end our afternoon was rounded out with a lovely home-made lunch created by Mark and some volunteers, served straight from the pizza oven in an alfresco setting.
By the end of the day we had a large range of potted plants that will be nurtured by Mark and Kate until late April. The plants will then be taken to Tocal and displayed in the Good Food and Wine area at Tocal Small Field Days. The plants will form the basis of our Autumn Talking Gardens event – Biodiversity in the Garden. So if you missed the first event, you can at least see our work on show at Tocal.
We would like to welcome newcomers who attended the event and thank everyone who brought plants, pots, energy, enthusiams, and the all-important gardening gloves. Together we have created the foundation of what will become our biodiverse garden at Tocal.