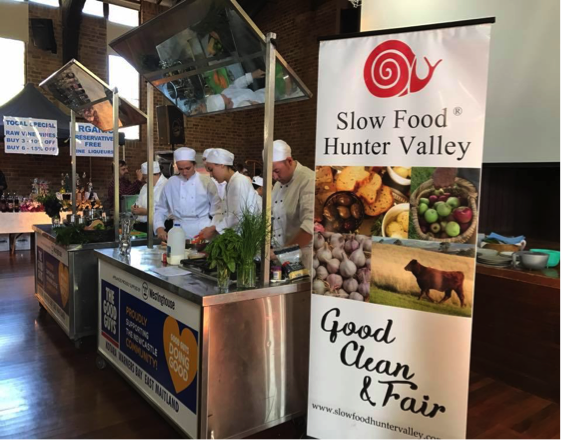 The Tocal Field Days were held on May 5, 6 and 7 this year. Slow Food Hunter Valley was engaged to look after the Good Food Hall, the adjacent Eat Street outside the hall, and organise and run the Bake or Burn contest. In addition to all that, Slow Food Hunter Valley also created a display garden and raised money from our own food stall in the hall and the sale of produce from a number of our farming members.
Bake or Burn
The Bake or Burn contest once again elicited a great response from high schools across the Hunter who were keen to participate in the competition on Friday 5 May. There were four schools (Bulahdelah, Newcastle Grammar, Tomaree & Toronto) fielding a total of eight teams. Competition was fierce and standards were exceptionally high. Toronto and Tomaree fought it out in the finals with Tomaree taking out first prize. Many thanks to Nikki Richardson (Commercial Cookery teacher, Hunter TAFE), Grahame Steel & Jane Purkiss, who were our judges.
Display Garden
On the Saturday a number of supporters gave talks in the Great Hall at our display garden. These included Mother Moira from St Fiacre's Community Food Garden who spoke about growing a community through a community garden, David Sivyer from Feedback Organic Recovery who spoke about Urban Gardens, Phil Debenham from Telarah Public School who spoke about the Stephanie Alexander Kitchen Garden Program, Kelly-Ann Lees from Urban Hum speaking about beekeeping, Austin Breiner speaking about biodiversity in the garden and Bob Leonard who did a cooking demonstration using verjuice.
More Cooking with a Focus on Vegetables and Dairy
Sunday saw three teams of young chefs cook up a storm using our featured ingredients – vegetables and dairy. Thanks to the mums, dads and grandparents who assisted on the day. Our judges (Lee Bootland, Grahame Steel and Oscar Affleck – last year's winner) had a difficult time picking a winner. Congratulations to Lilly Hughes and her father who took out first prize with a delicious winter vegetable soup.
Our Food Stall
Our food stall is always a big hit.
This year's menu included:

beef and pork sausage rolls
chicken pies
vegetable frittata
gramma pies with cream (another seasonal hit)
pumpkin scones and muffins.
Use of the commercial kitchen in the hall and the expertise of our volunteer kitchen staff meant that our delicious, fresh food smelt wonderful and sold quickly. Thanks to Dotty, Robyn, Suzanne, Roy and Laurel for that massive effort and Amorelle for inspiration and overall management. Thanks also to the community kitchen volunteers who helped with preparation at the café beforehand.
The public face of Slow Food at the stall included Miriam, Jenny, Hayley, Helen, Richard, Jocelyn and Bob. This team spruiked about the work of Slow Food and sold verjuice as well as the food being rustled up in the kitchen. Their efforts are clear to see by the money that changed hands and the interest generated in Slow Food.
Outside in the elements Steve and his wife sold local, fresh vegetables which raised around $600 over the three days.
A sincere thanks to everyone who gave their time and energy so freely. It was a great result in all areas.
Report Helen Hughes
Slow Food Hunter Valley would like to extend a heartfelt thank you Helen for the overall organisation of the cooking competitions on Friday and Sunday. The school competition is so important as it engages young people and makes them consider more closely – and understand – the source of their food. Here is what others had to say about out Bake or Burn competition:
This years Bake or Burn was the best organised by far! Congratulations Helen, I know how hard you worked to make it happen.
(Wendy Franklin, Manager, Tocal Field Days)
​Hi Helen, what a fabulous day!  We thoroughly enjoyed ourselves and already are making plans for next year's competition.  Maybe even bringing 2 teams!
(Elizabeth Smith, Department of Education and Training New South Wales)