Earth Market Stallholders – Farm Tours
Farming in Urban Gardens – Tour 2 (1 Aug)
POSTPONED until further notice! Unfortunately our second tour has been postponed until further notice due to COVID. When the tour goes ahead it will continue as per our schedule below.
Stop 1 – Telarah Public School: The kitchen garden at Telarah Public School began in 2014 when the school joined the Stephanie Alexander Kitchen Garden Program. Currently all of the Year 3, 4 and 5 students are in the program – around 180 students. All classes have 16 sessions a year for 3 years. They learn about growing and harvesting food and then cooking the garden produce and sharing the meals together. The garden grows a wide range of vegetables and fruits, uses the compost made by the children's fruit scraps and has a worm farm. There are a 9 wicking beds. Everything is grown organically the garden is a haven for butterflies, bees and birds and a place of ever changing beauty and peace within the busy school environment.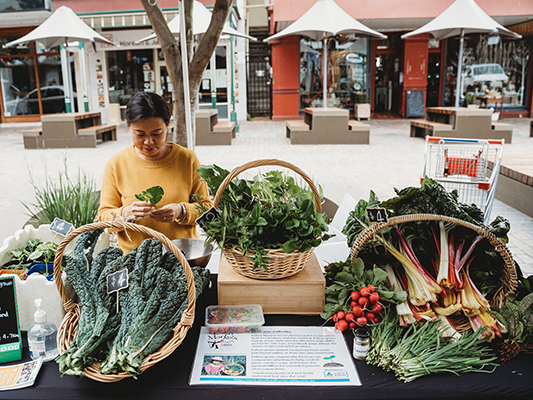 Stop 2 – Felicia's urban vegetable garden: Imagine turning all your lawn into a productive urban vegetable garden! This edible garden originally started out as a way of growing a few Vietnamese herbs and veggies that were hard to come by in Maitland. Now Felicia's Homegrown Veggies is an urban food forest bountiful enough to supply a stall at Maitland's Earth Market. Now full of vegetable beds, compost, hanging fruit vines, herbs, and a selection of fruit trees, the vegetable patch has spread over the years to now cover more than 500m2
Felicia's garden demonstrates how a small urban backyard can be transformed into a productive enterprise using organic principles and dedication. You will enjoy a walk in the garden, a chance to inhale the fragrances of the herbs, see and taste the unusual plants and enjoy a beautiful Vietnamese lunch cooked the traditional way by Felicia using ingredients from her garden. The menu will include traditional finger food, a warm and hearty soup and dessert accompanied by a glass of wine or non-alcoholic beverages.
DATE: Sunday 1st Aug 2021
TIME: 10.00AM for morning tea at the Telarah Public School Stephanie Alexander School Garden
and 11 am at Felicia's Homegrown Veggies.
TOTAL EVENT COST: Slow Food Hunter Valley members $45pp.
Non members and friends $65pp (morning tea and lunch supplied).
BOOKING: Please book via Try Booking. A limit of 20 places are available.
HOW TO GET THERE: This is a self-drive tour and numbers are limited. Please be at the Telarah Public School (George St entrance) by 10am.
Olive Growers – Tour 1 (16 May)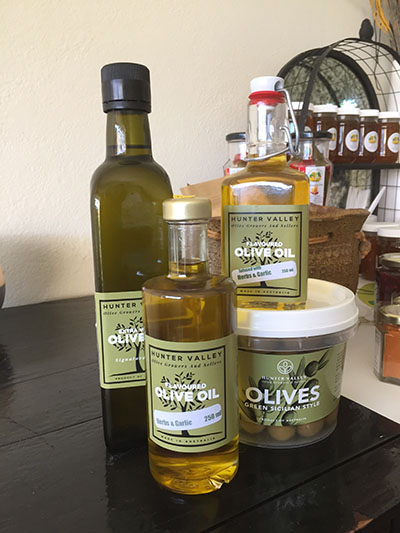 To kick off our Earth Market Stallholder Tour program we will be visiting Hunter Valley Olive Growers at Mount View.
Join our olive farmers, Ian & Kaylene, on their farm and help pick some of the new season's crop. Enjoy a long grazing-table lunch. On the way to the olive grove, stop by for morning tea by the wildlife habitat pond at Bellbird.
DATE: Sunday 16th May 2021
TIME: 10.30AM for morning tea beside the wildlife habitat pond at Bellbird
and 12 noon at Hunter Valley Olive Growers, Mount View
TOTAL EVENT COST: Early Bird price for Slow Food Hunter Valley members only $45pp
Non Members $65
Children up to 14 $15pp
BOOKING: Event closes Sunday 9th May 2021 at 10pm so please book before then via Try Booking.
HOW TO GET THERE: This is a self-drive tour and numbers are limited. Full details (including address and map) are contained in the Try Booking link.