The Mai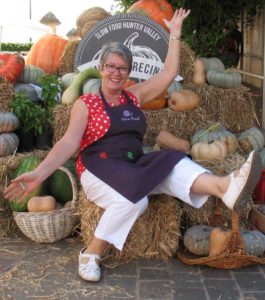 tland Taste Festival was on again on March 10 and 11 (10am to 4pm) – and yes we will be there.
Come and join us as we promote local produce. Grab some great street food. Indulge in the rich aroma of coffee. Sample local wine and produce from around the Hunter region.
Food Demonstrations
The festival offers a diverse program of demonstrations, performances, live art and children's activities across the event. This year, Celebrity Chef Matt Golinski will feature at the festival, running cooking demonstrations, food tastings and more.
Matt's program includes an extraordinary range of local seasonal produce.
Canapes – 11.00am Saturday and 10.00am Sunday

Tromboncini Fritters with HB Fetta and Oven Dried Tomatoes
Sourdough Crostini with Eggplant and Olive Tapenade
Warrigal Greens Empanadillas
Beancycled – 11.45am Saturday

Stir Fried Oyster Mushrooms with Tromboncini Noodles, Sweet Potato Leaves and Garlic Chips
Main Courses – 12.30pm Saturday and 12.30pm Sunday

Spiced Chicken Breast with Grilled Eggplant, Tomato and Cucumber Tabouli and HB Labneh
Hot and Sour Chicken Soup with Oyster Mushrooms, Pumpkin, Water Spinach and Thai Basil
Desserts – 2.15pm Saturday and 2.15pm Sunday

Little Yoghurt Cakes with Glazed Figs, Sweet Labneh and Rose Geranium Infused Honey
Mixed Melon Salad with Semillon Jelly and Bay Leaf Custard
Prestige Stage 1 – 10.00am Saturday

Roast Pumpkin Salad with HB Fetta, Rocket and Roasted Garlic and Honey Vinaigrette
Prestige Stage 2 – 1.15pm Saturday

Chicken Braised in Tomatoes with Eggplant, Squash, Green Peppers and Olives
Live Music
The live music program features some of the region's greatest independent songwriters across four performance spaces, while kids can enjoy free craft workshops, games and cooking classes.