The Mai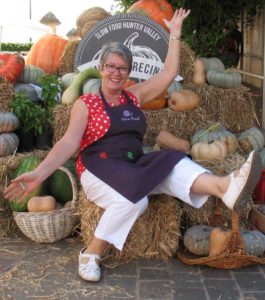 tland Taste Festival was on again on March 11 and 12 (10am to 4pm). This year we were weaving our magic with pumpkins. We cooked pumpkins, we sold pumpkins, we ate pumpkins, we had our photo taken with pumpkins and some of us even painted pumpkins.
Slow Food Hunter Valley held a food stall with a pumpkin theme (pumpkin ravioli  and the pumpkin scones). While the pumpkin ravioli was very popular, the pumpkin scones (with wild rosella jam) sold out. You see, we still  love our scones here in the Hunter.
Local artists Gaye Shield and Kay Sparkes provided children's art classes that proved to be very popular throughout the two days. Children ranged n ages and walked away with a wonderful painting they had created during the class.
Meanwhile, at the cooking classes mums and dads waited patiently while the little ones got their hands into real food.  Anne Kelly, Honorary Treasurer, Slow Food Hunter Valley, ran the classes. Pictured are (L to R) Ned, Abigael and Avah making potato and pumpkin gnocchi.
We set up a photo booth in the Pumpkin Precinct (which was a huge hit with locals, children and tourists alike). Parents found it hard to resist taking a photo of the children and we did see more than a few adults taking a selfie here and there. In fact, even Paul West of River Cottage fame, could d not resist a photo.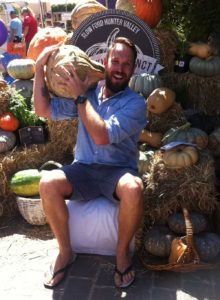 See the full official "wrap up" on Maitland Council's Taste Festival Facebook page.