"One of Slow Food's main pillars is the promotion of biodiversity and there is no greater example of biodiversity than the world of Austin Briener's pumpkin patch. It is Austin who inspired me to put this web page together. It is not a "be all to end all" about pumpkins but does show the rich diversity of this wonderful vegetable (now reclassified as a fruit). We hope it inspires you to grow some wonderful pumpkins. Whether you have a small back yard or a small paddock out the back, you are sure to find something that tweaks your interest (and your space) right here.
"I am also happy to stand corrected on the information below (my research has been more than three years in the making and may be a little out of date – or I may have misconstrued something). Please send any corrections using our General Comments form at the bottom of the Contact Us page. We'd love to hear from you." (Webmistress, Liz Griffiths).
Anna Swartz (Maxima) Heirloom America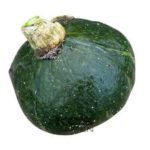 Rich sweet flesh (an early variety). Named after Anna Schwartz, this variety has an extremely hard shell, excellent storage qualities, high-quality yellow-orange flesh (similar in colour to sweet potatoes and with a similar flavour) and is best used in soups. The fruits small to medium with a dark blue-green, mottled skinned. The fruit varies in size from two to four kilograms. This is a family heirloom that was handed to Anna Swartz in the 1950's. Because cold weather can damage squashes, they should be harvested before the first frost. Cut the stem with a sharp knife, leaving a four to six centimetres of length (to help extend storage). Cure the squashes in the sun or a dry location until the stem shrivels and do not wash the ones you intend to store.
Atlantic Giant (Maxima) Canada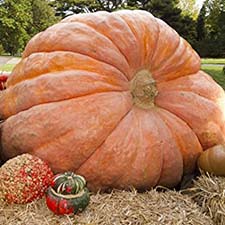 This variety is grown for its super-sized pumpkins which can be anywhere between 50 kilograms to up to a tonne. It has produced the biggest pumpkins in the world and are often used in shows (in the largest pumpkin category). At one point the current world record for an Atlantic Giant pumpkin was held by Beni Meier from Switzerland, with a 1054 kg (more recent information is not available at this time)!. Be warned, it is supposedly not the best eating pumpkin but you could make a thousand pumpkin pies from just one pumpkin (now that's a thought). While it is grown for its massive size rather than flavour, our very own Amorelle Dempster says she thinks this pumpkin has had a bad wrap in terms of its supposed "lack of flavour". She said "I roasted it in its skin, scooped the flesh out and mixed it with roasted Jarrahdale, added some ginger, cream and seasoned it. Delicious!!!" Now was it the other pumpkin (the Jarrahdale), the ginger and the cream that enhanced the flavour of the Atlantic Giant or is it just that EVERYTHING Amorelle cooks tastes good? (Just sayin' …)
For the backyard grower, don't think this is beyond you because almost all the world-record pumpkins since 1982 have been grown in small backyard gardens! To grow a world record pumpkin, you'll need good seed, good soil and good luck.
Australian Butter (Maxima) Heirloom Australia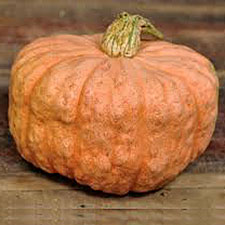 This is an outstanding Australian heirloom from Diggers Gardens Club near Melbourne Victoria. It has a large, yellow fruit with thick, dry, orange flesh and a small seed cavity. It is excellent for baking/roasting, and has excellent storage qualities. Weighs up to 6kg. Stores well. 90-100 days. Pale orange skin with fine-flavoured sweet flesh that is delicious roasted. Harvest in 19 weeks, yields 9kg per plant. This is a rare Australian Heirloom pumpkin, producing fruits with tan skin and deep orange flesh. Each fruit weighs up to 7kg and is excellent for baking as well as general pumpkin use. Stores well. Sow in Spring and Summer or most of the year in Warm climates. Soil temperature must be 21-35 deg C to germinate. Sow in a clump of 2-3 seeds 20mm deep, seedlings emerge 5-10 days, space 1 metre apart. Harvest approx. 90-110 days after sowing.
Baby Blue (Maxima) Australia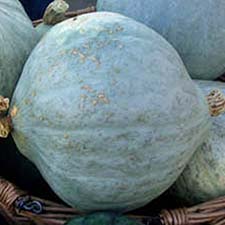 Dry flesh variety. This is a compact bush-type vine that produces small blue/grey pumpkins that grow to around 2kg. They have a tough grey/blue skin and deep orange flesh, growing to approximately 15cm across. They store well and are said to have excellent flavour. They are considered a good general purpose pumpkin because they are great for roasting, baking, steaming and for using in soups and in pies. The pumpkin is easily grown in good well drained soil. Sow in Spring and Summer (or most of the year in warm climates). Fruit can be harvested in approximately 90 to 110 days after sowing.
Big Max (Maxima) America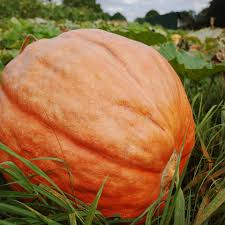 As the name suggests, these are very large pumpkins that can grow well over 45kg. The pumpkin is nearly round with a skin that is often bright orange in colour, deeply ribbed and slightly roughened and can be as thick as 76mm to 102 mm which makes them favorable for storage. The fruit is very thick and yellow to bright orange in colour. It is considered good for pies, freezing and canning – although their size often makes utilising them for culinary uses cumbersome. What's more they lack the flavor and texture present in smaller pumpkin varieties. Big Max is often seen in displays at agricultural shows and was hybridised for its size during the early 1960s. And a final word on this … the Big Max is not a true pumpkin but rather a squash-type pumpkin.
Black Futsu (Moschata) Heirloom Japan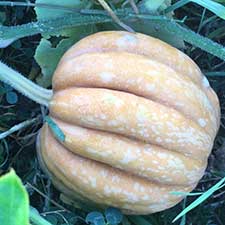 Blessed with exceptionally sweet flesh, the Black Futsu is a rare and unusual Japanese heirloom. It has a large seed cavity which means the flesh is not as thick as other pumpkins. It stores for up to six months and is excellent when roasted with the skin on. It is picked when the heavily fluted skin is black, but in storage it magically transforms to become a dusty orange. The other thing that happens in storage is a boost in flavour, which goes from being very nice to outstandingly sweet and nutty. Being a moschata pumpkin, the Black Futsu can be grown as a climber. Each vine will bear around five pumpkins, which average about 2kg in weight. A first-rate variety that is the equal of any pumpkin grown in Australia.
This variety starts in spring, grows through the summer months and is harvested in autumn. It starts out looking very much like a melon, develops into a deep, dark green (almost black) fruit with heavy ribbing, bumps and warts, then it develops hints of yellow, then takes on a rmouldy appearance and ends up a greyish colour. For a wonderful detailed description of the Black Futusu's unusual and fascinating growth cycle check out Garden Betty's site.
Baby Blue Ballet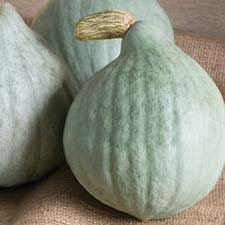 Dry flesh variety. smooth-skinned, blue/grey fruit, convenient in its size for the home kitchen. Said to be a sweet, highly flavoursome, orange flesh of smooth fibreless consistency. It yields around 6kg per plant and stores well. A contender for the world's prettiest pumpkin, Blue Ballet produces teardrop-shaped fruit clad in a powder-blue skin. When cut in half this pumpkin reveals a superb colour contrast. It can be used in pumpkin soup or roasted (cut into pieces, sprinkle with thyme and roast in a hot oven). Though the vines need some space to expand, they're not massive growers and yield modest crops of three or four pumpkins about 2kg each in weight.
Bohemian (Maxima) Heirloom Australia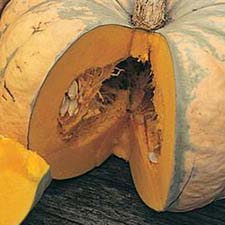 This is an old Australian variety that was thought to have been lost and is now considered "an Australian re-discovery" Traditionally it has been coveted by pumpkin lovers for its beauty, outstanding flavour and dense, orange flesh. It stores well and produces around 9.2kg of fruit per plant. It has some natural variability in shape – being not 100% true. The fruit are said to be a "wonder" because the natural variability means you might produce part of the crop as an oblong shape and the other part of the crop will be round and flattened. Good news, though, the colour of the skin and flesh will not vary with the rind starting out grey and developing salmon markings as it matures. The flesh is a yellow-orange colour, dense and very thick with a terrific flavour. The medium length vines are heavy producers with a single fruit ranging from 2kg to 4kg and picked at 93 days over summer (although some estimates can be as long at 119 days).
Buttercup (Maxima) America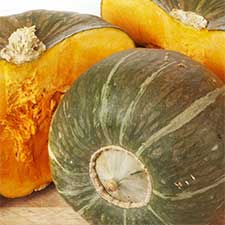 This pumpkin has a rich, sweet, nutty delicious, dense flesh that is a perfect size for an average household. It has a relatively dry flesh which lends itself to steaming and baking.
This pumpkin is a faster maturing and more compact growing variety than most pumpkins and can be harvested in around 17 weeks. It produces around 7.5 kilograms per plant. It should be planted after the last frost.
I also found information on an orange buttercup squash that has a small to medium sized fruit with a squat, round shape, flattened bottom, and thick, rough, light brown stem.
Buttercup squashes are also known for their characteristic turban-like caps located on the blossom end. These caps will vary in size depending on variety and increase in size as the squash matures. Its thick orange-yellow flesh is dense with a hollow central cavity filled with stringy pulp and many flat, cream-colored, hard seeds. Known for its satin-like texture and mild flavor when cooked, Orange buttercup squashes are sweet and rich, similar to that of sweet potato.
Butternut (Moschata) Heirloom America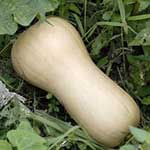 Sometimes known in Australia and New Zealand as butternut pumpkin this is actually a type of winter squash (which means it is harvested and eaten in the mature fruit stage when the seeds within have matured fully and the skin has hardened into a tough rind). It has a sweet, nutty taste, tan-yellow skin and orange fleshy pulp with a compartment of seeds in the bottom. When ripe, the flesh turns increasingly deep orange, and becomes sweeter and richer.
Butternuts are a fabulous all-purpose pumpkin (yes, we call it a pumpkin here in Australia) that can be roasted, sautéed, toasted, used for soups, mashed, or used in casseroles, breads, muffins, and pies.
Canada Crookneck (Moschata) Heirloom Canada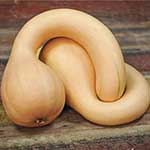 Excellent roasted or mashed. Creamy textured with a sweet, nutty flavour (early variety, maturing in around 110 days). Reportedly originated among the Iroquois Indians, it was introduced in the last 1820s to early 1830s. It was described in detail in Fearing Burr's book of 1865. The bottle-shaped fruits are creamy-yellow in colour, reach 1-2 kg, having a curved neck and fine-grained, sweet flesh. Resistant to pests and diseases this is a superlative keeper. Formerly quite common, it has become very difficult to find, and we are pleased to offer it at the Earth Market, Maitland when in season. It is excellent roasted, mashed, in pies and in soups.
It is also listed by the USA on the Slow Food Ark of Taste website. This variety is well suited to a wide range of climates and conditions and, according to the Ark of Taste listing has an excellent taste, is pest and disease resistance, and will store for long periods. The Ark of Taste listing also points out that until a few years ago it was being "conserved and offered commercially through the Eastern Native Seed Conservancy" but there is now "only one remaining commercial source of seed, making this variety highly endangered".
Chirimen (Moschata) Heirloom 1922 Japan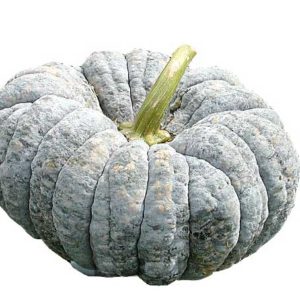 This heirloom has deep orange, moist, sweet flesh with an excellent flavour. It is considered one of the famous "Dento-Yasai" or traditional heirloom vegetables of Japan. Chirimen produces a unique flat globe shaped fruit with a characteristic tough, ribbed and warted skin. The fruit grows to around 20cm in diameter maturing from dark green to buff brown with sweet thick nutty flavoured flesh. According to The Lost Seed website it was first introduced into European markets by Aggeler & Musser Seed Co in 1922.
This variety is thought to be very old (around 400 years) and is very popular in traditional Japanese cooking. It is seen as a fine example of exceptional Japanese breeding skills when it comes to historic pumpkins.
Cushaw White (Moschata) Native American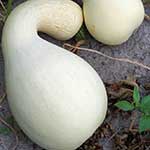 White cushaw is an heirloom squash from the American south (1891). It is one of the rarer varieties of cushaw squash. It is gourd shaped, has a long neck and bulbous base. This variety produces white-skinned oblong pumpkins with mildly sweet, dry, solid, nutty flesh that is a pale orange colour. It is excellent for baking/roasting or pies. Fruits weigh approximately four to five kilograms. It is sown in spring and summer or most of the year in warm climates. It likes a soil temperature of between 21-35 degrees celcius to germinate.
Cushaw was highly prized by the native peoples of both America for their mild, fine-textured fruit and their use as storage containers and bowls. They have been grown for thousands of years. The white cushaw also produces mounds of large seeds that make great, healthy snacks when roasted. Like most cushaws, this variety is pest-resistant and keeps very well.
Other varieties include Golden Cushaw and Green-striped Cushaw.
Delicata (Mini Sweet Bush) (Pepo) America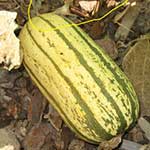 This variety (sometimes referred to on the internet as just Delicata Mini Sweet) produces pumpkins of around one kilogram in size, they store well, have sweet, golden flesh and are best picked young. Cut them in half lengthways, stuff with a bolognese sauce or a vegetarian mix of mushrooms, spinach and cheese, and bake for until soft (check regularly with a skewer after 40 minutes in the oven). This variety is high yielding, producing half a dozen fruit per bush.
According to the Organic Gardener website, botanically the Delicata can be more accurately classed as a winter squash than a pumpkin. It enjoys the same growing conditions as a squash and produces decorative torpedo-shaped fruit emblazoned with green and yellow stripes. A running form is available but space-conscious gardeners will want to opt for this bush form, which is compact enough to be grown in a large container.
Fordhook Acorn (Pepo) Heirloom America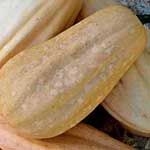 This creamy tan-colored, oblong, acorn-shaped fruit was bred at Fordhook Farm in Doylestown, Pennsylvania, under the expert eye of W. Atlee Burpee himself. The Fordhook farm in Pennsylvania is a research farm.
Introduced in 1890, the squash's tan oblong fruits grow up to one kilogram on vines. The flavourful fruits can be eaten fresh at around 56 days or left on the vine to mature and used for baking after 85 days. This variety was very popular in the 1920s but is not often found today.
The Fordhook Group of squashes also includes Delicata, Perfect Gem, and Table Queen.
Galeux D'eysines (Maxima) Heirloom France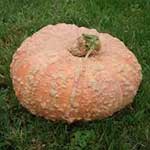 The flesh of this French heirloom is flavourful, deep orange, smooth and sweet, free from the fibrous strings found in many other squash varieties. The Galeux d'eysines is excellent for use in soups, for roasting or for steaming. Some in France may say that this is possibly their most beautiful heirloom squash. The fruit is flattened, round, typically weighs between four and six kilograms, and has gorgeous, salmon/peach-colored skin that is covered with large warts! When maturing from green to orange, sugars in the flesh begin leeching through the skin which is what causes its unique, wart-like bumps. the warts become larger and more concentrated as the fruit matures.
This is considered a very tasty squash.Hailing from the Bordeaux region of France, in the town of Eysines (from where the name is derived) and has been traced back to the late 1800s. It is sometimes referred to as Peanut Pumpkin or Peanut Squash (which has nowhere near the ring to it as Galeux d'eysines.
Gem Squash (Pepo) Africa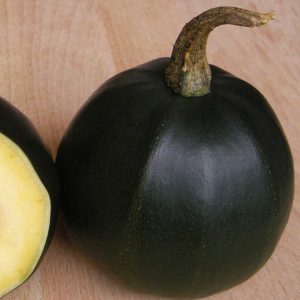 Gem squash is categorised as a summer squash which means it is picked when still young and tender. Summer squash needs little or no cooking (e.g. zucchini) but does not keep as well as winter squashes (which will have tougher skin and long storage capability). Picking gem squash while it is still young ensures a sweet taste. The mature fruit has more of a a nutty flavour.
Austin Breiner calls this Cannonball Squash because of its resemblance of a cannon ball. It makes a great mini-meal. Just cut the top off it, scoop out the seeds and fill with a meat or vegetarian stuffing. Bake for about 20 minutes in a moderate oven and then test the flesh with a skewer. Keep checking until the flesh is soft (cooking time will vary with the size of the squash).
This squash originated in Central America, but is highly prized in South Africa where it is often sold by the roadside in large bags. According to Jeanne Horak, on her Cook Sister website, this squash "is probably the thing that South Africans abroad crave the most" (which means it may well be South Africa's equivalent of vegemite).
Golden Hubbard (Maxima) America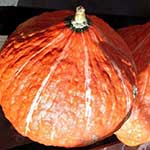 This heirloom variety has thick, dry, golden flesh, mildly sweet with fine texture and excellent flavour. It is a great general purpose pumpkin – especially for pies. The slight nutty flavour also makes it good for roasting.
Seeds can be roasted and eaten as pepitas. Young immature green pumpkins can be cooked and eaten and taste similar to button squash. Flowers can be stuffed with fillings or coated in tempura batter and fried.
It was first introduced in 1898 by DM Ferry of the Ferry-Morse Seed Co. It is also known as Red Hubbard or Genesee Red Hubbard. It is a very attractive, golden orange, tear-drop shaped fruit with moderate warting and weighs up to five kilograms. Golden Hubbard should be sown directly where they are to grow as they don't like being transplanted.
Golden Nugget (Maxima) America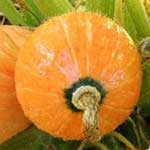 Golden Nugget is one of the smallest heirloom pumpkins available. It has a fine textured, light orange flesh. It is highly decorative, orange-skinned fruit rarely exceeds 15 centimetres in diameter, which is just right for an individual serving and perfect for stuffing. While some describe the taste as "middle of the road", this little baby has a lot going for it. The vines are compact and grow in a bush form (just like a zucchini). If your growing space is limited to a balcony or courtyard, Golden Nugget is the pumpkin for you. While the plant has a slight tendency to spread as the plant matures, it usually takes up no more than about a square metre of garden space and will produce a large crop of fruit if well cared for. So just one little plant can yield a nice crop that will store well and feed the family for several weeks.
When mature and ready for harvest the hardened skin will not dent when pressed with your fingernail.
Hokkaido, Orange (see Kuri, Red)
Hubbard Squash (Maxima) America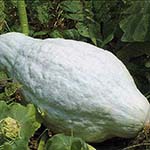 The hubbard squash has an extremely hard outer shell which means it can be stored for long periods of time (up to six months). The green to grey-blue shell isn't edible but the orange flesh inside is consistently sweet. It is typically a large squash with a nutty buttery flavour when roasted. It can also be boiled, steamed, sautéed, or pureed.
Some are put off because of the tough skin (it is very difficult to cut through). However, if you cut the hubbard squash in half, de-seed it, and rub the cut side with a bit of olive oil, it can be roasted (cut side down in the oven). The roasted flesh can then be scooped out and pureed for soups or stuffed inside ravioli.
Originally brought to New England from South America or the West Indies, the hubbard squash may possibly have been named by a Mrs. Elizabeth Hubbard in the 1840s. A neighbor with whom Elizabeth Hubbard shared the seed, Mr James J. H. Gregory, introduced this squash to the seed trade. A more recent variation of the hubbard squash, the golden hubbard, can now be found but it lacks the sweetness of the original, and in fact, tends towards a bitter aftertaste (see Golden Hubbard).
Hubbard squash has virtually no fat and is low in sodium. A cup of this squash has 120 calories, a good amount of dietary fibre and vitamin A and vitamin C.
Hunter Gem (Moschata) Hunter Valley Australia (developed by Austin Breiner of Maitland).
The is an excellent and very versatile eating pumpkin with deep orange flesh. As at the time of publication, it is grown only in Oakhampton (Maitland, NSW) and is a cross between two varieties of pumpkin (bringing together the best of the Kent and Butternut). The pumpkin was grown by Austin over a decade ago and through natural selection he is now growing the pumpkin true to type.
He named his pumpkin Hunter Gem and today it can be found in local markets around Maitland. The small, round fruit has a smooth, thin, variegated yellow and green skin. Its size and thinner skin makes it exceptionally easy to handle in the kitchen. Cut off the top, scrape out the seeds and stuff it with your favourite vegetarian curry or anything that takes your fancy. Then bake it whole. If you want to have it with your Sunday roast, just cut and bake it. Dry roast it with a sprinkle of cinnamon, mash it or use it in a soup – the options are endless. A fantastic all-round pumpkin.
Hunter River Gramma (Heirloom Moschata) Hunter Valley Australia.
This variety is said to be on its own for "gramma pies".
Iron Bark. (Maximo) Australia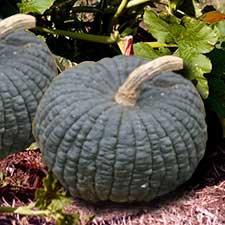 Ironbark pumpkin is an Australian heirloom variety with dry-flesh and thick skin. It has sweet, dense, rich orange flesh under a dark green skin and is best baked. This variety has a reputation for its excellent keeping qualities.
Sow in spring and summer or most of the year in warm climates. Soil temperature must be 21-28 deg C to germinate. Harvest approximately 90-110 days after sowing.
I also saw a post on an internet site where a lady in Queensland had crossed an ironbark with a QLD blue and said the result was superior to both pumpkins.
Jack O'Lantern (Pepo) America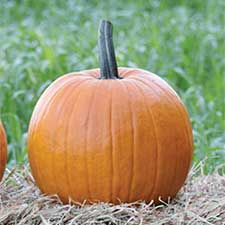 This is an heirloom variety that forms in round to oblong shapes and was bred for making Jack O' Lanterns. Despite this, its flesh makes delicious pies, soups, and muffins. It weighs an average of about 3 to 4.5 kilograms and has a deep orange coloured flesh.
The vines grow long and will need plenty of room. If you are growing them on a trellis you may need to make a sling for the heavy fruit.
Jarrahdale (Maxima) West Australia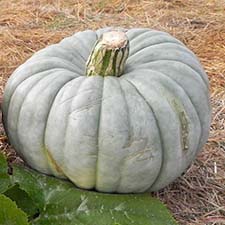 Deep orange flesh with slate or blue-grey skin. this grows to 2.5 to 4.5 kilograms. The pumpkin is said to be of superb quality. They have a flattened shape is flat, are ribbed, and can be very decorative. They keep well and can provide a year-round supply if kept in the right conditions. They are very popular in Australia. Use in savoury dishes.
Kauai (Pepo) America
Grown for seeds. Roasted or eaten raw.
Kent (previously Jap) (Moschata) America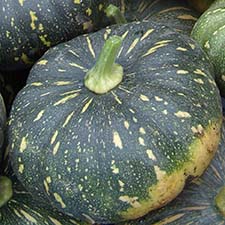 Previously known as Jap, the Kent pumpkin has ribbed, grey-green mottled skin. The flesh is a deep yellow colour and is said to have a nutty flavour. It's great mashed, roasted or steamed. This is considered a good general purpose pumpkin with an average weight of around 4 kilograms.
Around Maitland a number of farmers grow this variety in abundance. They are extremely popular because of their "middle of the road" all purpose use. Their size makes them quite manageable (easy to take home from the markets) but they are still large enough to feed the family.
Kuri, Blue (Maxima) Japan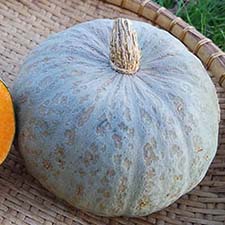 Blue Kuri is a Japanese squash with blue-grey skin and a flattened globe shape. It has relatively sweet, thick orange-yellow flesh that is somewhat dry (which is characteristic of a Kabocha or Hokkaido squash). If stored for a few months, it will become a little more moist.
The fruit is relatively small (1 to 1.5 kilograms) which makes is good for market sales. One squash can provide a meal for two. This is very similar in size to the Hunter Gem.
They keep very well, much longer than Buttercups and other Kabochas.
Kuri, Red (Baby Red Hubbard) (Maxima) Japan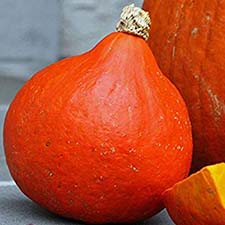 Red Kuri is a s thin skinned orange coloured squash that has the appearance of a small pumpkin but without a ribbed skin. The flesh is typically firm with a subtle chestnut flavour. It belongs to the Hubbard squash group and is also know in Japan as Orange Hokkaido and in France as Potimarron.
This is an early maturing pumpkin (13 weeks) with fruit that weighs around 1 to 2 kilograms. Production occurs over an extended period throughout the growing season. The firm flesh and edible skin make it a very versatile pumpkin in the kitchen – it is great baked and, because it remains firm during baking, it is ideal for stuffing.
Red Kuri is good for mashing and pies.
Lakota (Heirloom) (Maxima) America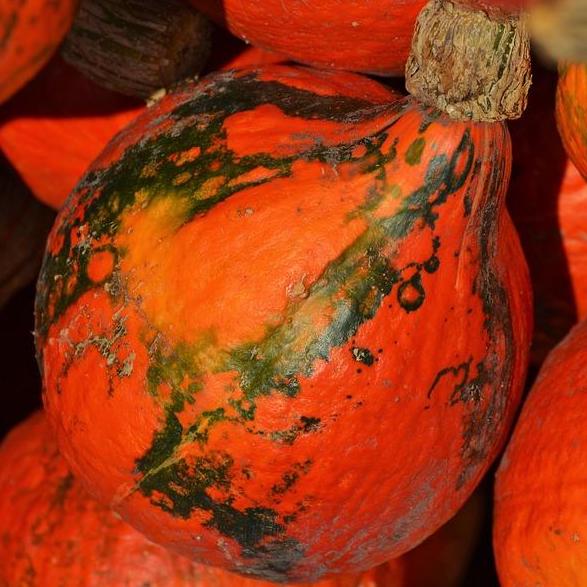 This is a colourful pumpkin that pre-dates the Sioux Indians. Grown originally by the Lakota Sioux, the current variety is said to "mimic" the original variety. The fruit is pear-shaped and flame-red with green streaks at the bottom. Reaching 2 to 3 kilograms, this is not a large variety.
The flesh is fine-grained and sweet with a great nutty taste. A wonderful squash that ranks among some of the most beautiful. It has the same fine baking quality as a Hubbard.
Long Island Cheese (Moschata) Heirloom 1824 America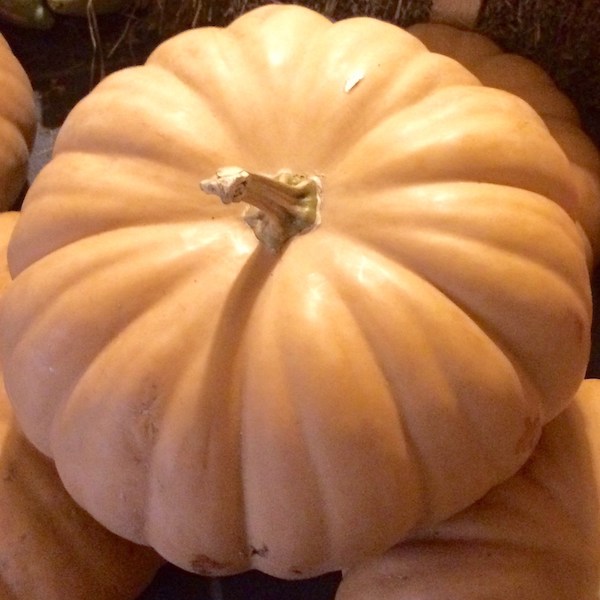 The Long Island Cheese is an heirloom variety with a rich American history. It has beeb popular for its smooth texture, long storage capabilities and use in pumpkin pie.
This medium to large squash averages 2.5 to 4.5 kilograms weight. The skin is smooth with vertical ribbing. The colour ranges from a lovely muted tan to buff colour. The fruit is round, squat, and semi-flattened in shape. The flesh is a deep orange colour, sweet, earthy flavour. The flesh is dense, fine-grained, and semi-brittle. The seed cavity is large. The seeds are flat, tear-drop shaped and cream in colour. The seeds are edible. When cooked, Long Island Cheese squash is tender and creamy.
Marina Di Chioggia (Maxima) Heirloom Italy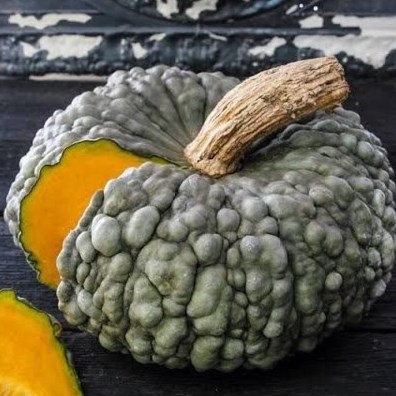 Originally from South America, this variety is referred to by Rare Seeds as "the heirloom sea pumpkin of Chioggia" (Chioggia is a fishing village south of Venice on the coast of Italy). The fruit has a warty appearance, is deep blue-green and is said to be both beautiful and unique.
The flesh has a rich, dense texture with an incredible depth of flavour. It is a deep yellow-orange colour, sweet and dry. It can be baked or used in pies and, because of its texture has become a popular filling for ravioli and for making gnocchi. It will store for up to six months.
Mosque de Provence (Moschata) France
This French heirloom variety produces large flat pumpkins that are heavily ribbed. The ribbing creates almost perfectly formed wedges (only from a French heirloom could such perfection stem). Starting as a dark green fruit, when ripe it turns a wonderful rich brown colour, reaching 9 to 10 kilograms in weight. The fruit is very smooth with excellent storage potential.
The flesh is deep orange, moderately sweet, thick, and very fine flavoured. The Mosque de Provence originates from southern France and is well suited to baking or making pies. It is also very ornamental. So pop this French beauty on your table where you can admire it before eating it.
Monkey's Bum (Maxima) Australia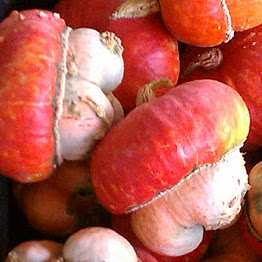 The Monkey's Bum (or Monkey's Butt) pumpkin is named after its four-lobed underside (once you turn the pumpkin over you will see why it is called Monkey's Bum). It is a small and very dry pumpkin with deep orange flesh. While the ones pictured here are orange, the ones sold locally in Maitland are a blue colour (slightly lighter in colour than a Queensland Blue).
In Maitland there is a large demand for these pumpkins because of their dryness. Usually grown at Oakhampton (just outside Maitland) by Austin Briener, this pumpkin makes an appearance at the Earth Market in the Levee most years.
Munchkin (Pepo) America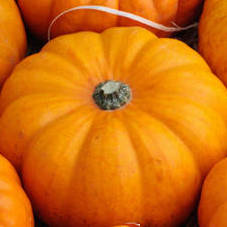 This is a miniature pumpkin that grows up to 10 to 12 cm. It has sweet, thick, light orange flesh. Its small size makes it an excellent variety for baking – especially if it is stuffed and baked whole. Its bright colour also makes it a wonderful table decoration. This pumpkin holds its firmness a long time.
Search the internet for a "Spiced Apple & Currant stuffed Pumpkin". You'll be amazed.
Pike's Peak (see Sibley)
Pimply Squash (Moschata) Heirloom Australia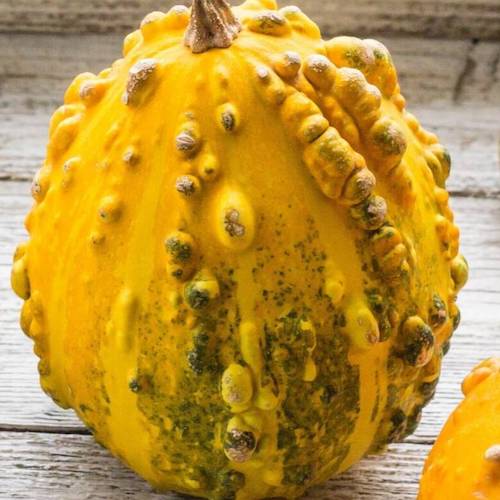 This unusual variety comes in a long or a flat variety. It is well known amongst old farmers (and a few new ones too). It is a very productive variety with smaller sized fruit that develops to a green and gold colour. It is sometimes referred to as a winter squash or winter pumpkin because it stores well into the winter months.
The flesh is golden, dry, tasty, sweet and soft when cooked. It has a good flavour. Some would say that pimply squash is best cut in half, seasoned with butter, salt and pepper then baked. It can also be roasted or steamed.
Pink Banana Jumbo (Maxima) Heirloom America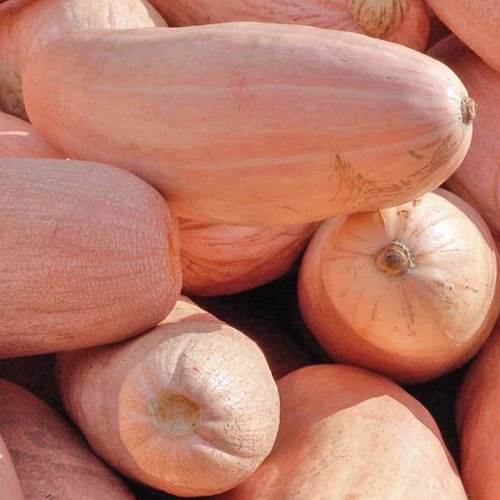 The Pink Banana is an heirloom variety that produces very large long fruit. It has been around for over 100 years. The fruit grows up to 120cm long at full size but is best picked before then (it should be picked before it reaches 80cm). A large Pink Banana can weigh up to 15kg. The skin of the fruit is a pale pink.
This pumpkin has a vining habit, and because the plants get very large they need lots of room. From each plant you should see two to three beautiful pumpkins. Said to have excellent storage qualities, they will last all winter if kept in a cool, dark place. Give the outside of the skins a quick rinse with a diluted solution of water that have a few drops of bleach. This will kill off any bacteria, and increase the shelf life of these special fruits.
The flesh is orange/yellow, sweet and dry. It has excellent flavour with a fibreless texture. They make excellent pies and are also good for baking.
Potimarron (see Kuri, Red)
Red Warty Thing (Maxima) Heirloom America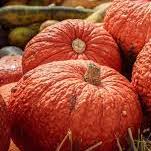 This heirloom variety traces back to the late 1800's. Originally named 'Victor' until it was almost lost, it was reintroduced around 2000 under its current name. The fruit grows to around 10kg and stores well. The thick, bright orange-red skin is covered in many bumps (or warts). The fruit's rich colour means it makes an excellent ornament.
The orange flesh is sweet, firm, fine-grained and dense. Because of its string-less texture it is good for pies and baking. The flesh encases a central cavity filled with pulp and many small, flat, cream-coloured seeds. When cooked, Red Warty Thing squash is tender and smooth with a mild, sweet flavor.

Rouge vif D'Etampes (Maxima) Heirloom France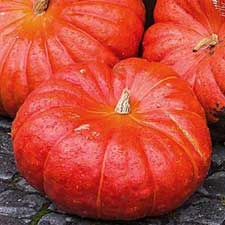 The Rouge Vif D'Etampes is a classic French heirloom with a stunning colour. Its beauty makes it highly prized as an ornamental variety but it is much more than "just a stunning looker" as they say. This variety also makes for good eating and is said to be the standard for French soup stocks. While the skin is a vivid orange, the flesh is a little lighter but still delicious to eat.
The fruit has a unique (somewhat flattened) shape and was reported as the most popular pumpkin in Parisian markets of the 1880s. The name translates to "Vivid red from Etampes" (a medieval town just south of Paris). It is here where the pumpkin was originally grown for markets. W. Atlee Burpee was the first to introduce Rouge Vif D'Etampes to U.S. gardeners in 1883.
The fruit can reach up to 10 kilograms and stores well. All I can say is that only the French could make fruit into such a work of art. This is a spectacular pumpkin in every respect.
Sibley (Maxima) Heirloom America 1837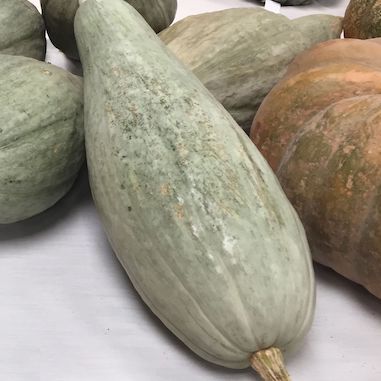 Another heirloom – this time from the US. The pumpkin was first sold commercially in 1887 by Hiram Sibley & Co. but is believed to pre-date this time (when the seed is thought to have been obtained from an elderly woman in Van Dinam, Iowa who had grown the variety for more than 50 years previously). The variety is also known as 'Pike's Peak'.
The fruit is slate-blue, tear-drop shaped and elongated. It develops to 3-5kg in size and is quite uniform in shape.
The orange flesh has an intense, sweet flavour with little fibre. The flavour sweetens upon storage. It is a vining plant to that needs up to five metres if space. The fruit stores well (100-110 days). It is an excellent all-round pumpkin and can be used for soups, purees, baking, steaming and deep frying.
Silver Edged (Mixta) Heirloom Native American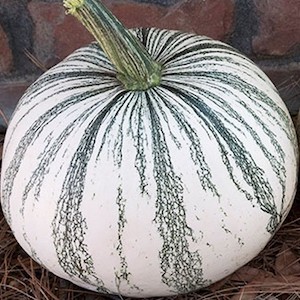 This variety was bred by the Mexican Indians and is not usually grown for its flesh. The pumpkin takes its name from the unique, large and tasty, silver edged seeds that are produced inside of its fruit. These seeds are roasted and sold as pepitas. The seeds are also an important ingredient used for Latin American cooking.
The fruit is white/green striped, round and grows to approximately 15 – 25 centimetres in diameter (between one and three kilograms). Because it is an attractive fruit it makes an excellent addition to displays or can be used alone for decoration.
The flesh is yellow, two to three centimetres thick, finely granulated and somewhat fruity with a fine pumpkin flavour. The pumpkin is good for steaming but is said to be fairly "ordinary".
Small Sugar Pumpkin (Pepo) America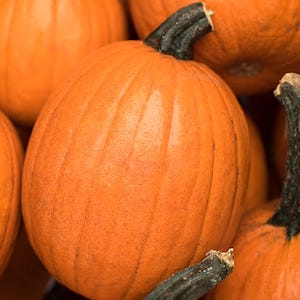 This heirloom variety dates back to around 1863. The fruit is orange, small, round and uniform in shape. It is slightly flattened with very light rib indentations. It grows to around 15 centimetres or two kilograms in size. It stores well. The vines are compact and should produce approximately four to six fruit (although hand pollination is recommended).
This variety has also been known as New England Pie Pumpkin, Northeast Pie, Boston Pie, Sugar Pie, Early Sugar Pie, and Sweet Sugar
The bright orange flesh is naturally high in sugar content which makes it sweet in flavour with a smooth, stringless texture. The flesh is said to be one of the best varieties pies, soups and roasting and casseroles. The Small Sugar is said to be even better for pies than its larger cousin Connecticut Field pumpkin. In fact, this is said to be the classic (if not original) pie pumpkin.
Spaghetti Squash (Pepo) America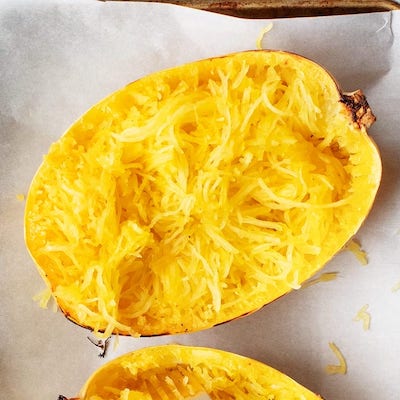 Sometimes referred to as vegetable spaghetti, noodle squash, vegetable marrow, spaghetti marrow and squaghetti, the spaghetti squash is a pale yellow (or off white) oblong sized squash. It grows on a vine which creeps along the ground like a zucchini, cucumber or most other pumpkins.
When ripe it is hard like a watermelon – but lacks the water content of a watermelon so it is not as heavy. A raw spaghetti squash, when cut in half, looks very similar to a pumpkin with a core of large seeds in the centre surrounded by hard flesh. Uncut spaghetti squash can be stored in a cool, dry, dark location for up to four weeks.
What makes this fruit different is the magic that happens when you cook it. Once cooked the flesh resembles spaghetti.
To cook the squash, boil it, use a microwave or an oven. To cook in an oven, cut the spaghetti squash in half lengthways, scrape out the seeds but don't peel it. Once cooked, use a fork to scrape the cooked flesh away from the skin. The flesh will resemble spaghetti and taste like zucchini (somewhat bland). In many ways its blandness is an asset because it can be treated just like pasta and will absorb the flavour of the dish or sauce you end up adding it to. It also makes a paleo-friendly, gluten free pasta that is low in calories! Does it get any better?
Strawberry Crown (Maxima) Heirloom Brazil
The fruit of this variety is round, slightly flattened and slightly ribbed. Around the top of the fruit the skin is a magnificent strawberry colour which is what gives this variety its name. Originating from Brazil the plant produces four to six fruits per vine with fruit averaging three kilograms.
The Strawberry Crown has excellent storage qualities and the colour and sweetness intensifies with storage. It has a strong, rich flavour. This is a lovely baking pumpkin but with its smooth, yellow, rich flesh (that is not stringy), it can also be pureed which means it makes a lovely soup.
According to the Hope Seeds website, Mary Schultz brought this variety to America from Brazil in the 1980s.
Although this variety is originally from South America, it has been a surprise success in our shorter, northern climate. Strong vining plants with about 4 pumpkins maturing per vine (more if you have a longer growing season).

Stygian Hull-less "Pepita" (Pepo) America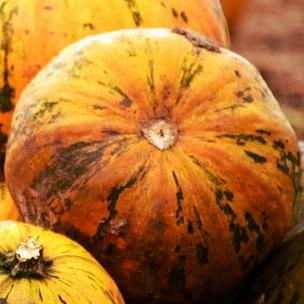 An Austrian variety from the province of Styria this pumpkin is a very attractive with medium to large fruit weighing five to eight kilograms and producing two to three fruits per plant. The skin is bright orange with green striped markings and raised ribs.
This pumpkin is often grown for the outstanding large and completely hull-less seeds which are nutritious and can be eaten raw or roasted. The seed also yields a valuable oil that is used to promote prostate health in men. While the seeds are highly sought after, this is also said to be a very nice eating pumpkin, making excellent pies, soups and casseroles (although some reports suggest the flesh lacks flavour).
Table Queen "Acorn" (Pepo) America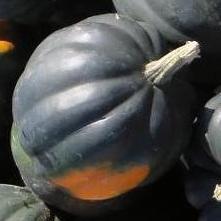 This is a great heavy cropping bush-type pumpkin / squash producing large numbers of medium sized acorn shaped fruits. The dark green, ribbed fruit grows to 15 centimetres and stores well. Because it is bush-forming and a prolific producer, it is good for smaller gardens. It can also be used as a squash if harvested young. This seed was introduced by the Iowa Seed Co. in 1913 and is thought to be of Native American origin.
The small fruit has sweet, dry, orange flesh and is excellent for baking or roasting.
Triamble (Maxima) Heirloom Australia / New Zealand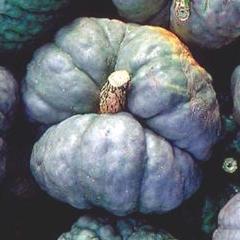 TRIAMBLE is a rescued Australian favourite that has three distinct lobes and thick blue skin. It is both unusual and rare and somewhat underrated. The variety dates back to at least the 1930's.
With three large lobes and smooth, thick blue/grey skin it has a very distinctive look. The fruits are dense and heavy and will reach three to five kilograms. Records show they can keep up to two years.
The flesh varies from yellow to deep orange. It is a dry, sweet and rich tasting pumpkin which makes it wonderful for baking.
There is a lovely article called Triamble: A Love Story if you are interested in reading one person's love affair with this little Aussie beauty.
Trombonchino (Moschata) Italy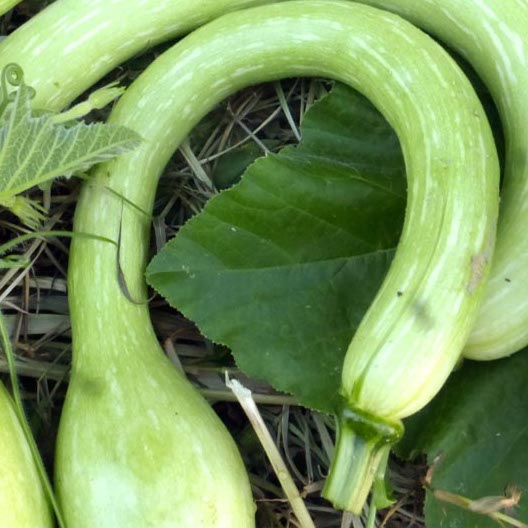 Harvest as a zucchini or a butternut flavoured mature fruit (early).
Tromboncino is sometimes referred to as Zucchetta – perhaps because it produces long pale green zucchini-like fruit with a bulbous end. Although a summer squash, the vining growth habit is similar to many winter squashes. This means the plants do best when grown on a trellis or other medium but can also be grown on the ground. It is a high yielding variety.
When picked early, the fruit is used like a zucchini and has a comparable flavour and tender texture (it is best when picked at around 25cm long). The difference between the Tromboncino and zucchinis is the water content. Because the Tromboncino – when picked early – dryer, it holds its shape. This makes is perfect for making a vegetarian lasagna.
The fruits can also be left to mature. The skin will harden and turn a pale orange, at which point it can be used like a pumpkin. It is a very disease resistant variety.
The Tromboncino is also known as Zucchini Tromboncino, Serpentine Squash, Climbing Crookneck and Zucca Trombetta.
Trombone Gramma (Moschata) Heirloom America
This is an old and somewhat rare variety producing medium sized pumpkins with a long thin neck (like a trombone). The fruit starts out bluish-green with pale green striping and ripens to orange. It grows to 60 centimetres in length.
The fruit has very thin skin making it very easy to peel but the end result is that it will not store well.
The flesh is sweet, moist and has an excellent, rich flavour. It is commonly used in pumpkin pies, scones and soups but is also good for mashing, baking and steaming. It is a wonderful all rounder, easy to handle in the kitchen and full of flavour.
Turkish Turban (Maxima) England 1845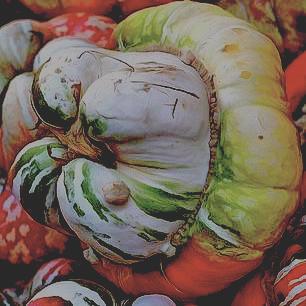 Also known as Turk's Turban or French Turban, this curiously shaped fruit is a mottled orange, white and green. It makes a memorable harvest and fabulous addition to a display because of the incredible variation in the fruits (shape, size and colour).
This type of squash is most often used as a winter squash. It is an heirloom (supposedly a French heirloom despite the name), predating 1820 and is closely related to the buttercup squash. It is typically up to 3 kilograms when mature and grows on a trailing vine that spreads to three metres.
It is said to be a little watery and not as flavoursome as other varieties. That said, there are plenty of recipes on the internet for this unusual little beauty. Check out the Roasted Turban squash soup, for example.

Victor (see Red Warty Thing)
Waltham Butternut (Moschata)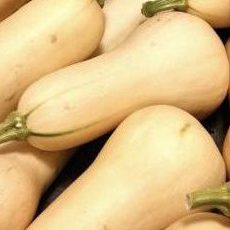 This heirloom variety, has a hard, yellow to tan exterior. It produces small pear shaped fruit that grows up to 25 centimetres or two kilograms. It is one of the more compact growers compared to other runners and is easy to grow in good well drained soil. It has a small seed cavity (which means more flesh in the pumpkin) and stores well.
The orange flesh is somewhat dry and has an excellent sweet, nutty flavour. It is said to be extremely rich in vitamin A, of an exceptional quality, and with no stringiness. It can be steamed, boiled or baked.
Wee B Little (Pepo) America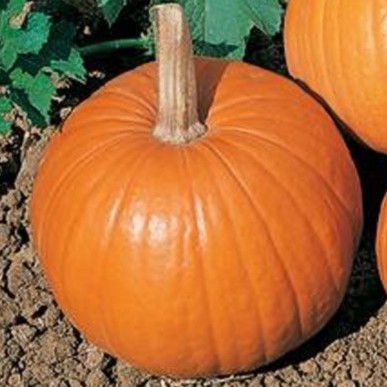 This cute little pumpkin comes in baseball sized fruit – just the right size for little hands to harvest and hold and perfect for the children to start their pumpkin patch. They weigh between 200 and 400 grams and can be carved, cooked, or painted — this is one versatile vegetable. The fruit is smooth and unribbed which makes them easy to decorte.
The vines have a semi-bush habit, so they don't require lots of room to roam in the garden. Their size makes the great for roasting whole tor cut off the top and stuff with a gourmet filling and then bake to perfection.
Winter Luxury (Pepo) American Heirloom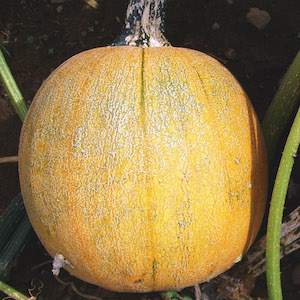 Supposedly the best pie pumpkin, ever! This marvellous old heirloom pumpkin produces superb fruits that grow to three kilograms. The variety dates back to around the early 1890s (said to be introduced by Johnson & Stokes in 1893). It grows on short vines and produces a pretty orange fruit with what appears to be white netting.
Winter Luxury is not only a attractive ornamental fruit but is also superb for eating. The flesh is great tasting, sweet and smooth. It has a silky texture and is ideal for pies or puree. The fruit has a short keeping time so it is nice to puree and freeze it for future use.
This is said to be one of the best tasting pie pumpkins you can grow because of its very sweet and smooth flesh.
Wrinkled Butternut (Moschata) America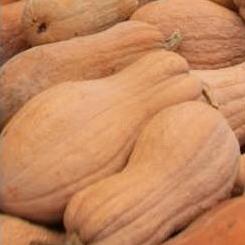 This is a huge butternut pumpkin that often weighs in at around six kilograms. They are deeply creased and wrinkled which means their beauty is truly in the eye of the beholder.
The Wrinkled Butternut is also called Giant Butternut, Butternut Rugosa or Violina.
The seed is all in the base so they are easy to prepare and provide loads of deliciously rich, dense flesh. It is perfect for soups or baking and is said to be superior to the regular butternut pumpkin in both taste and ease of growing.