There is no greater example of biodiversity than the world of Austin Briener's "pumpkin patch". This year Austin purchased a box of seeds of all varieties – mostly heirloom – and "farmed out" the growing to a few locals. Some pumpkin varieties will cross pollinate and if they are grown in close proximity so Austin has had to get creative about keeping his pumpkins pure.
Here is just some of the information Austin has gathered over the years (many of these varieties Austin had grown at one time or another). Can you add to it? Do you have any experience with growing particular varieties of pumpkin? Contact us and share your information with everyone. We'd love to hear from you.
Anna Swartz (Maxima) Heirloom America
Rich sweet flesh (an early variety). Named after Anna Schwartz, this variety has an extremely hard shell, excellent storage qualities, high-quality yellow-orange flesh (similar in colour to sweet potatoes and with a similar flavour) and is best used in soups. The fruits small to medium with a dark blue-green, mottled skinned. The fruit varies in size from two to four kilograms. This is a family heirloom that was handed to Anna Swartz in the 1950's. Because cold weather can damage squashes, they should be harvested before the first frost. Cut the stem with a sharp knife, leaving a four to six centimetres of length (to help extend storage). Cure the squashes in the sun or a dry location until the stem shrivels and do not wash the ones you intend to store.
Atlantic Giant (Maxima) Canada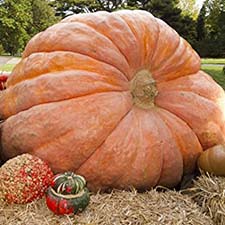 This variety is grown for its super-sized pumpkins which can be anywhere between 50 kilograms to up to a tonne. It has produced the biggest pumpkins in the world and are often used in shows (in the largest pumpkin category). At one point the current world record for an Atlantic Giant pumpkin was held by Beni Meier from Switzerland, with a 1054 kg (more recent information is not available at this time)!. Be warned, it is not the best eating pumpkin but you cold make a thousand pumpkin pies from just one pumpkin (now that's a thought). It is grown for its massive size. For the backyard grower, don't think this is beyond you because almost all the world-record pumpkins since 1982 have been grown in small backyard gardens! To grow a world record pumpkin, you'll need good seed, good soil and good luck.
Australian Butter (Maxima) Heirloom Australia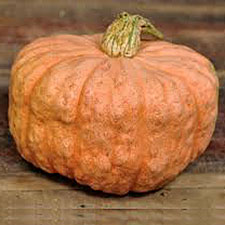 This is an outstanding Australian heirloom from Diggers Gardens Club near Melbourne Victoria. It has a large, yellow fruit with thick, dry, orange flesh and a small seed cavity. It is excellent for baking/roasting, and has excellent storage qualities. Weighs up to 6kg. Stores well. 90-100 days. Pale orange skin with fine-flavoured sweet flesh that is delicious roasted. Harvest in 19 weeks, yields 9kg per plant. This is a rare Australian Heirloom pumpkin, producing fruits with tan skin and deep orange flesh. Each fruit weighs up to 7kg and is excellent for baking as well as general pumpkin use. Stores well. Sow in Spring and Summer or most of the year in Warm climates. Soil temperature must be 21-35 deg C to germinate. Sow in a clump of 2-3 seeds 20mm deep, seedlings emerge 5-10 days, space 1 metre apart. Harvest approx. 90-110 days after sowing
Baby Blue (Maxima) Australia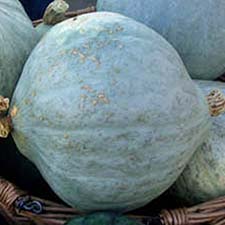 Dry flesh variety. This is a compact bush-type vine that produces small blue/grey pumpkins that grow to around 2kg. They have a tough grey/blue skin and deep orange flesh, growing to approximately 15cm across.  They store well and are said to have excellent flavour. They are considered a good general purpose pumpkin because they are great for roasting, baking, steaming and for using in soups and in pies. The pumpkin is easily grown in good well drained soil. Sow in Spring and Summer (or most of the year in warm climates). Fruit can be harvested in approximately 90 to 110 days after sowing.
Big Max (Maxima) America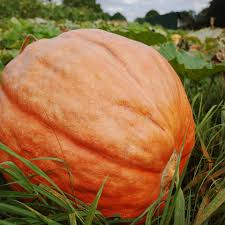 As the name suggests, these are very large pumpkins that can grow well over 45kg. The pumpkin is nearly round with a skin that is often bright orange in colour, deeply ribbed and slightly roughened and can be as thick as 76mm to 102 mm which makes them favorable for storage. The fruit is very thick and yellow to bright orange in colour. It is considered good for pies, freezing and canning – although their size often makes utilising them for culinary uses cumbersome. What's more they lack the flavor and texture present in smaller pumpkin varieties . Big Mad is often seen in displays at agricultural shows and was hybridised for its size during the early 1960s. And a final word on this … the Big Max is not a true pumpkin but rather a squash-type pumpkin.
Black Futsu (Moschata) Heirloom Japan
Blessed with exceptionally sweet flesh, the Black Futsu is picked when the heavily fluted skin is black, but in storage it magically transforms to become a dusty orange. The other thing that happens in storage is a boost in flavour, which goes from being very nice to outstandingly sweet and nutty. Being a moschata pumpkin, the Black Futsu can be grown as a climber. Each vine will bear around five pumpkins, which average about 2kg in weight. A first-rate variety that is the equal of any pumpkin grown in Australia.
This year Liz Griffiths and John Clarke have been given the job of "keeper of the black futsu". Liz and John are growing this pumpkin for Austin on their turmeric patch (see photos below). We will have black futsu pumpkins at the markets as soon as they are ready. This variety starts in spring, grows through the summer months and is harvested in autumn. It starts out looking very much like a melon, develops into a deep, dark green (almost black) fruit with heavy ribbing, bumps and warts, then it develops hints of yellow, then takes on a rmouldy appearance and ends up a greyish colour.
For a wonderful detailed description of the Black Futusu's unusual and fascinating growth cycle check out
Garden Betty's
site.
Baby Blue Ballet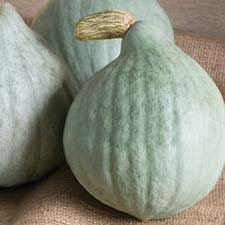 Dry flesh variety.  smooth-skinned, blue/grey fruit, convenient in its size for the home kitchen. Said to be a sweet, highly flavoursome, orange flesh of smooth fibreless consistency. It yields around 6kg per plant and stores well. A contender for the world's prettiest pumpkin, Blue Ballet produces teardrop-shaped fruit clad in a powder-blue skin. When cut in half this pumpkin reveals a superb colour contrast. It can be used in pumpkin soup or roasted (cut into pieces, sprinkle with thyme and roast in a hot oven). Though the vines need some space to expand, they're not massive growers and yield modest crops of three or four pumpkins about 2kg each in weight.
Bohemian (Maxima) Heirloom Australia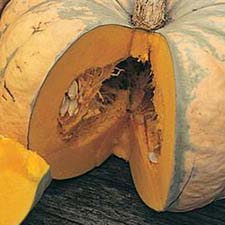 This is an old Australian variety that was thought to have been lost and is now considered "an Australian re-discovery"  Traditionally it has been coveted by pumpkin lovers for its beauty, outstanding flavour and dense, orange flesh. It stores well and produces around 9.2kg of fruit per plant. It has some natural variability in shape – being not 100% true. The fruit are said to be a "wonder" because the natural variability means you might produce part of the crop as an oblong shape and the other part of the crop will be round and flattened. Good news, though, the colour of the skin and flesh will not vary with the rind starting out grey and developing salmon markings as it matures. The flesh is a yellow-orange colour, dense and very thick with a terrific flavour. The medium length vines are heavy producers with a single fruit ranging from 2kg to 4kg and picked at 93 days over summer (although some estimates can be as long at 119 days).
Buttercup (Maxima) America
Relatively dry flesh variety. This pumpkin has a rich, sweet, nutty delicious, dense flesh that is a perfect size for an average household. Faster maturing and more compact growing than most pumpkins, it can be harvested in 17 weeks, and produces around 7.5 kg per plant.
Butternut (Moschata) Heirloom America
Sometimes known in Australia and New Zealand as butternut pumpkin this is actually a type of winter squash (which means it is harvested and eaten in the mature fruit stage when the seeds within have matured fully and the skin has hardened into a tough rind). It has a sweet, nutty taste, tan-yellow skin and orange fleshy pulp with a compartment of seeds in the bottom. When ripe, the flesh turns increasingly deep orange, and becomes sweeter and richer.
Butternuts can be roasted, sautéed, toasted, used for soups, mashed, or used in casseroles, breads, muffins, and pies.
Canada Crookneck (Moschata) Heirloom Canada
Excellent roasted or mashed. Creamy textured with a sweet, nutty flavour (early variety, maturing in around 110 days). Reportedly originated among the Iroquois Indians, it was introduced in the last 1820s to early 1830s. It was described in detail in Fearing Burr's book of 1865. The bottle-shaped fruits are creamy-yellow in colour, reach 1-2 kg, having a curved neck and fine-grained, sweet flesh. Resistant to pests and diseases this is a superlative keeper. Formerly quite common, it has become very difficult to find, and we are pleased to offer it at the Earth Market, Maitland when in season.
It is excellent roasted or mashed and well suited to a wide range of climates and conditions.
It is also listed by the USA on the Slow Food Ark of Taste website.
Chirimen (Moschata) Heirloom 1922 Japan
This heirloom has deep orange, moist, sweet flesh with an excellent flavour. It is considered one of the famous "Dento-Yasai" or traditional heirloom vegetables of Japan. Chirimen produces a unique flat globe shaped fruit with a characteristic tough, ribbed and warted skin. The fruit grows to around 20cm in diameter maturing from dark green to buff brown with sweet thick nutty flavoured flesh.
Cushaw White (Moschata) Native American)
This gourd shaped squash has a long neck and bulbous base with fine, sweet, dry, solid flesh. Ideal for baking or pies.
The skin is white skin with very pale green bands on it, and pale orange flesh.
Delicate Min Sweet Bush (Pepo) America
Pale orange-yellow flesh. Best picked young.
Ford hook Acorn (Pepo) Heirloom America
Similar to Table Queen.
Galeux d'eysines (Maxima) Heirloom France
Rich orange flesh. Use for soups, roasting and steaming.
Gem Squash  (Pepo) Africa
(Hybrid). Non-hybrid available.
Baby stage sweet taste. Mature fruit has a nutty flavour. (Early).
Golden Hubbard (Maxima) America
Sweet, dry, orange flesh
Golden Nugget (Maxima) America
Golden Nugget is one of the smallest heirloom pumpkins available. The highly decorative, orange-skinned fruit rarely exceeds 15cm in diameter, which is just right for an individual serving and perfect for stuffing. The vines are compact and grow in a bush form (just like a zucchini). If your growing space is limited to a balcony or courtyard, Golden Nugget is the pumpkin for you. It has a fine textured, light orange flesh.
Hubbard Squash (Maxima) America
Thick dry flesh. General purpose – especially pies.(early).
Hunter Gem (Moschata) Hunter Valley Australia (developed by Austin Breiner of Maitland).
The is an excellent and very versatile eating pumpkin with deep orange flesh. It is grown only in Oakhampton (Maitland, NSW) and is a cross between two varieties of pumpkin (bringing together the best of the Kent and Butternut). The pumpkin was grown by Austin over a decade ago and through natural selection he is now growing the pumpkin true to type. He named his pumpkin Hunter Gem and today it can be found in local markets around Maitland. The small, round fruit has a smooth, thin, variegated yellow and green skin. Its size and thinner skin makes it exceptionally easy to handle in the kitchen. Bake it whole (stuffed with mince or rice) or cut and bake it with your Sunday roast. Dry roast it with a sprinkle of cinnamon, mash it or use it in a soup – the options are endless. A fantastic all-round pumpkin.
Hunter River Gramma (Heirloom Moschata) Hunter Valley Australia.
On its own for "gramma pies".
Iron Bark. (Maximo) Australia
Dry flesh variety. Thick skinned. Good keeper. Sweet, dense, bright orange flesh. Best baked.
Jack O'Lantern (Pepo) America
Pale orange flesh. Good cooking. Stores well.
Jarrahdale (Maxima) West Australia
Deep orange flesh
Kauai (Pepo) America
Grown for seeds. Roasted or eaten raw.
Kent (previously Jap) (Moschata) America
Good general purpose pumpkin.
Kurri Blue (Tokyo squash) (Maxima) Japan
Thick orange yellow flesh. Very sweet.
Kurri Red (Baby Red Hubbard) (Maxima) Japan
Good for mashing and pies
Marina Di Chioggia (Maxima) Heirloom Italy
Sweet dry flesh.
Mosque de Provence (Moschata) France
Deep orange flesh. Moderately sweet.
Lakota (Heirloom) (Maxima) America
Native American pumpkin that pre-dates the Sioux Indians.
Long Island Cheese (Moschata) Heirloom 1824 America
Sweet, deep orange flesh.
Monkey's Bum (Maxima) Australia
Deep, orange flesh. Very dry.
Munchkin (Pepo) America
Sweet thick light orange flesh. Best baked.
Pennsylvania Dutch Crookneck (Moschata). America
Extremely sweet flesh.
Pike's Peak (see Sibley)
Pimply Squash – flat (Moschata) Heirloom Australia
Tasty dry orange flesh.
Pimply Squash – long (Moschata) Heirloom Australia
Tasty dry orange flesh
Pink Banana Jumbo (Maximav) Heirloom America
Sweet dry flesh (early)
Potmarrow (Peto) Heirloom. France
Rich chestnut flavour. Edible skin.
Red Warty Thing – Victor. (Maxima) Heirloom America
Orange flesh.
Rouge vif D'Etampes (Maxima) Heirloom France
"Cinderella" Translates as "bright red stamp (or print)".
Sibley – also known as Pike's Peak. (Maxima) Heirloom America 1837
Sweet orange flesh.
Silver Edged (Mixta) Heirloom Native American.
Grown for seeds which are roasted, salted and sold as pepitas.
Small Sugar Pumpkin (Pepo) America
"New England Pie". Sweet, thick, yellow flesh. "The best pie pumpkin".
Spaghetti Squash (Pepo) America
Shredded flesh. Boiled or roasted.
Strawberry Crown (Maxima) Heirloom Brazil
Best baked, roasted or in soups. Strong, rich flavour.
Stygian Hull-less "Pepita" (Pepo) America
Seed eating. Fresh or dried or roasted.
Table Queen "Acorn" (Pepo) America
Thick dry orange flesh. Ideal for baking.
Triamble (Maxima) Heirloom Australia / New Zealand Heirloom
Deep orange fruit. Sweet, firm and dry.
Trombonchino (Moschata) Italy
Harvest as a zucchini or a butternut flavoured mature fruit (early)
Trombone Gramma (Moschata) Heirloom America
Ideal for mashing, pies, scones, soup. Sweet moist flesh.
Turkish Turban (Maxima) England 1845
Early
Waltham butternut
This heirloom variety, has a hard, yellow to tan exterior with delicious, sweet, orange flesh inside. It is said to be extremely rich in vitamin A, of an exceptional quality, and with no stringiness. It can be steamed, boiled or baked. This long-lasting squash stores all winter. This is the most common winter squash used to make the popular, creamy soup by the same name.
Wee B Little (Pepo) America
Roast whole or stuff.
Winter Luxury (Pepo) 1893 America
"Livingston pie".
Ideal for baking, roasting, pancakes. Thick, sweet, pale orange flesh.
Wrinkled Butternut (Moschata) America
Rich dense flesh, ideal for soups and baking.