Perpetual Food Bowl
Take advantage of this wonderful initiative at the Earth Market on the first and third Thursday of each month. Novice gardeners who are looking to have a go at growing some tasty veggies can pick up a pack of seeds at the Seed Library Stall at the Earth Market this week.
The first Perpetual Food Bowl seed packet contains lettuce, silver beet, cherry tomatoes, climbing beans, rocket and cucumber. This packet is full of potential and just needs a little love from you! The seed packets were put together with love on Sunday and we are excited to see how they go.
Pop in and have a chat with Kendall who is looking after the Seed Library Stall at the Earth market and claim your Perpetual Food Bowl pack. The packs contain just a few seeds of each veggie, enough to get a summer harvest in a good-sized container or mini patch. Thanks to Ruth Neave for the inspiration and leadership on this and to the supporting team.
Get your seeds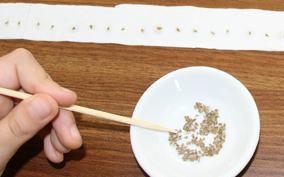 Free, local, seasonal seeds! You don't need money, you don't need a credit card, you don't even need a shopping cart. You just need a trickle of water, a sprinkle of sunshine, a little bit of dirt, a stitch of time and a soft caress from mother nature.
In a joint venture between the Maitland City Library and Slow Food Hunter Valley, a library with a difference has been created – a seed library.
The seed library is part of Slow Food Hunter Valley's focus on re-connecting people with the paddock to plate process. Through this initiative Slow Food Hunter Valley is working to increase food biodiversity in our region, promote food education and ensure sustainability in our food system. This initiative gives local residents an opportunity to access, free of charge, seeds from local seasonal seed stocks
Order Your Free Seeds
So how does it work? Community members register online. After registering, you can order seeds (seeds are free) from the online catalogue by simply clicking on the item. This generates an email – you will be asked to provide your name, your contact number and your preferred branch library from where you would like to pick up your seeds. You need to indicate whether your preferred pick up point is Maitland Library, East Maitland Library, Rutherford Library or Thornton Library.
You can also list additional seeds that you would like.
A library staff member will contact you to confirm your preferred pickup point and arrange for the seeds to be there for you.
All you have to do is register and then click and collect!
The Seed Bank
The Maitland Earth Market stallholders have provided the initial bank of seeds (including beetroot, carrots, swedes, garlic and turnips) for the seed library. Each season the library of seeds will continue to be replenished and will grow in variety as more seeds are donated.Donated seeds are sorted by SFHV members and volunteers, separated and packaged prior to each planting season. A fact sheet has been prepared for each variety and will be available to download from the catalogue site, for each seed type borrowed.
Giving Back to the Seed Library
Registered participants who obtain seeds from the library are encouraged to donate some of their seeds back to the library when their growing season is over. This will also ensure the library of seeds remains replenished for the next season. Just take your donation to any of the city library branches, fill in the deposit form and it will then appear in the catalogue for others to continue the growing cycle.
We're all Winners
This initiative will further connect people in the community to local experts, provide community members with resources and promote the ongoing need for sustainable living practices. The seed library will stock only locally grown seed where possible and preserve some of our local agricultural heritage, available to us all.
If you want to get your hands in the dirt, if you want to enjoy the known mental-health benefits of gardening, if you want to participate in the community, if you want to contribute to the preservation of seeds or if you want to be part of developing a local, resilient seed-stock then this is for you.
The initiative reinforces the work of Slow Food by continuing to promote our local food culture, celebrate seasonal produce and maintain biodiversity in the region.
Why is This Important?
In America, "With little notice, more than two dozen state legislatures have passed "seed-preemption laws" designed to block counties and cities from adopting their own rules on the use of seeds, including bans on GMOs. Opponents say that there's nothing more fundamental than a seed, and that now, in many parts of the country, decisions about what can be grown have been taken out of local control and put solely in the hands of the state." (The full story of this can be found at Mother Jones.) Let's make sure that never happens here!