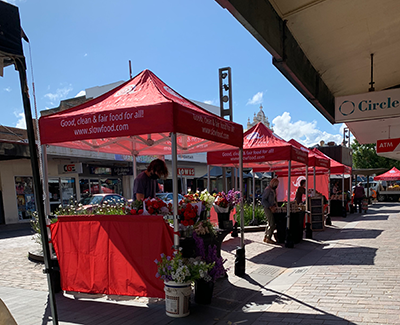 The Earth Market is held 8.30am to 1.30pm on the 1st and 3rd Thur of the month.
The Earth Market Maitland is a place where local farmers and producers offer a range of healthy, quality food at a fair price directly to consumers. In addition, they preserve the food culture of the local community and contribute to defending biodiversity.
The Earth Market has been established according to the Slow Food philosophy of "good, clean and fair food for all".
Good: fresh and seasonal, healthy, tasty and able to stimulate and satisfy the senses.
Clean: environmentally sustainable cultivation and production processes, no GM crops, local.
Fair: accessible prices for consumers and fair compensation and conditions for producers.
About the Produce
At the Earth Market you will find a wide range of fresh vegetables, preserves, meat, honey, herbs, herbal teas, sweets, bread, oil and vinegar. All produce meets specific quality criteria, reflecting the Slow Food principles of good, clean, and fair.
All produce is sourced from within a certain radius of Maitland. A key requirement of the market is that farmers and producers are in attendance, selling the food they have grown or produced themselves. This requirement ensures the grower or produce is available to speak directly with the customer and to share a wealth of information and advice.
About the Producers
Producers must demonstrate their suitability before they are permitted to sell at Slow Food Earth Markets. The focus is on small-scale farmers and artisan producers. The market provides them with an important opportunity to offer their produce without having to compete with large distribution chains. Small-scale production is also favoured as it often produces high-quality results. Producers are asked to charge a fair price for their work and pledge fair treatment of their employees.
Local Planting Guide
Slow Food Hunter Valley has invested a significant amount of time and effort in developing a local planting guide. For a nominal fee you can purchase a copy of the guide at the Slow Food Earth Market. Ask at the Slow Food stand about the planting guide.
Where and When are the Markets?
The markets are held in the Levee in Maitland's main street. They are held on the first and third Thursday of the month from 8.30am to 1.30pm.
Contacting Us
All contact details for the Earth Market can be found on our Contact Us page.
Want to be a Stallholder?
If you would like to be a stallholder, please see the international selection criteria for Earth markets. If you think you meet the criteria for Earth Market stallholders, please Amorelle Dempster (see our Contact Us page for Amorelle's details).
Want to Start Your Own Earth Market?
If you would like to set up your own Earth Market in your region, please see the Useful Materials page of the international site. This page contains all the information needed to start your own Earth Market, including the Earth Market Project guidelines.